How does the British royal family make money?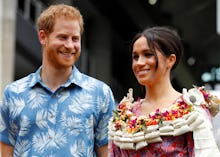 Though it's not yet over, we have already learned so much from the Duke and Duchess of Sussex's foreign tour to Australia, New Zealand, Fiji and Tonga. Meghan Markle is pregnant! Prince Harry adores baby gifts, particularly stuffed koalas and tiny Uggs! They loved joining an "anti-bad vibes" circle on Bondi Beach in Sydney! And a whole lot of coordination goes into a visit with 76 engagements, multiple flights and careful outfit choices — as does a whole lot of money.
Who is paying for those private flights, the clothes, the security guards, for Markle's fashion stylist and hair person and makeup artist? Does Harry have a corporate card that comes with the instructions: "Charge it to Grandma?"
Well, sort of. The finances of the British royals, and how they get paid, is complicated, and the financial process of exchange between the monarchy and the government has changed many times over the last millennium. Like any good financial planner, Queen Elizabeth II has a diverse portfolio of investments and assets, along with multiple income streams, but a large source of her income is the Sovereign Grant.
The Sovereign Grant Act of 2011 established the Sovereign Grant, a sum that would be paid to the reigning monarch by the British government every year to cover her work. It pays for her staff, for travel, for her family and their staff and their work, for maintenance and renovations to Buckingham Palace and other properties.
That grant is formed from a percentage of revenue generated by the Crown Estate, a collection of properties around the U.K. owned by the monarchy, from sea beds to retail avenues, some of which have been under royal ownership for nearly a thousand years. That percentage has amounted to around 32 to 43 million pounds each year since the act was passed (around $41 to $55 million by current exchange rates), but the grant shot up to 76.1 million pounds (or $97.5 million) in 2017 due to a special need for funds to extensively renovate Buckingham Palace to avoid "catastrophic building failure."
Two other royal portfolios generate income: the Duchy of Lancaster (which pays out to Queen Elizabeth II or whomever is the reigning monarch) and the Duchy of Cornwall (which pays out to Prince Charles or whomever is the rising male heir to the throne). They're both private estates, they're both hundreds of years old, and they both contain a wild range of assets, like limestone quarries or a group of islands.
Still, these two eight-figure incomes aren't enough to cover the estimated 300 million pounds it takes to run the monarchy each year. The Queen also makes undisclosed income from her private portfolio of investments, and holds real-estate assets like Balmoral Castle and her Sandringham home, not to mention millions in art, furniture and other expensive objects.
The most frequent complaints about the monarchy are typically the financial drain on the British taxpayer. But in the most recent annual report from Buckingham Palace, Vanity Fair noted that each tax-paying citizen in Britain paid 0.69 pounds toward the crown per year, or less than an American dollar. "When you consider that against what the queen does and represents for this country, I believe it represents excellent value for money," Alan Reid, the queen's treasurer, said in 2017 when the previous year's report was released and indicated a 0.65 pounds price per British head.
In case any naysayers are left (and there certainly are plenty), the royal family also generates plenty of money for the United Kingdom and countries around the world with their work. It's hard to nail down the translation of their efforts to cold cash, but one straightforward example is that tourism into Britain jumped by 3% in 2011, the year Prince William and Kate Middleton got married in a celebration watched by billions around the world. At the time of their nuptials, the British Retail Consortium predicted that London's shops, restaurants and bars would make an extra 500 million pounds thanks to the hoopla. For Harry and Markle, one economist estimated 1 billion pounds will be generated by the end of 2018 due to their wedding at Windsor, with extra money pouring in from flights, hotels, restaurants, souvenirs, museum visits or orders from the designers that Markle has worn.
And that's just the U.K. Consider also that the places where the royals visit, and get the splashiest press, also benefit from the monarchy's sparkle — which may be why they typically visit nations in the Commonwealth. After William and Middleton took a royal tour through India in 2016, TripAdvisor reported a 25% boost in the country's bookings; Australian travel sites claimed double-digit or even triple-digit percent increases in bookings or traffic when they went to Australia in 2014. So while the Sussex voyage isn't over yet, the interest has already grown: Is it time to finally see the Sydney Opera House in person? What is Fiji blue? And hey, who will pay us to travel there?