Hype Daily: Caitlyn Jenner says she was "wrong" about Trump and more entertainment news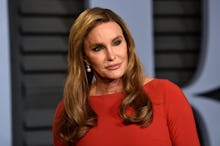 Wow, can you believe we made it to Friday? What a week. Let's check out the day's entertainment news before we trampoline-launch ourselves into the weekend, OK?
Caitlyn Jenner says she was "wrong" to support Trump
Advocate and Kardashian-adjacent celeb Caitlyn Jenner now says she regrets her past support of President Donald Trump after the Trump administration's plans to redefine gender in a way that denies the existence of trans and nonbinary people. In an op-ed published in the Washington Post on Wednesday, Jenner wrote, "my outlook has changed significantly from what it was during my highly publicized and glamorized early Caitlyn days, when my life as an out trans woman was just beginning."
Jenner described how she initially felt hopeful that Trump would be supportive of the LGBTQ community, and that she had tried to work with the administration to effect positive change. But, as she wrote in the op-ed, "Sadly, I was wrong. The reality is that the trans community is being relentlessly attacked by this president. The leader of our nation has shown no regard for an already marginalized and struggling community. He has ignored our humanity. He has insulted our dignity. ... I do not support Trump. I must learn from my mistakes and move forward." No word yet on whether Jenner's new position has created tensions with her Trump-supporting step-son-in-law, Kanye West.
A Clueless reboot is happening and the writer of Girls Trip is producing
How do you remake a movie that's so steeped in '90s culture that it's basically a time capsule? We'll find out, apparently, because a Clueless reboot is in the works, according to the Hollywood Reporter. Marquita Robinson, a writer for the Netflix series GLOW, will write the script and Girls Trip writer Tracy Oliver will produce.
The original 1995 Clueless starred Alicia Silverstone, Brittany Murphy and Paul Rudd in a classic tale of high school, fashion and dating your ex-step-brother. The film was also (very) loosely based on the Jane Austen novel Emma. We'll see if the new Clueless will launch the same number of iconic catchphrases as the first — as if!
An L.A.-based rapper has been arrested in connection with multiple sexual assaults
Los Angeles-based rapper and actor Kaalan Walker, who appeared in the movie SuperFly, has been arrested in connection with multiple sexual assaults, the Los Angeles Times reported on Thursday. According to an LAPD detective quoted by the Times, Walker is believed to have contacted women on social media under the "pretext of being hired for jobs in the entertainment industry" and then allegedly sexually assaulted them when they met alone.
He's being charged with five counts of forcible rape, one count of forcible oral copulation and three counts of sexual penetration by a foreign object, according to the Times.
Broad City has a premiere date for its final season
The excellent stoner comedy Broad City is, sadly, coming to an end, and on Thursday the show revealed the premiere date for its fifth and final season. The new season will start after the new year on Jan. 24 at 10 p.m. Eastern on Comedy Central, TVLine reported on Thursday. Check out a new teaser trailer for the upcoming season here.
Put this on your radar: Robyn's new album is finally here
After literally years of anticipation, pop genius Robyn's new album Honey dropped on Friday. In a tweet on Friday morning, Robyn wrote, "My album is finally released today, really want to enjoy it being let out into the world. Now it's yours, hope you like it!" Honey is Robyn's first new album in eight years, but early reviews seem to indicate the wait was worth it.
Variety called the album "both elated and tense, blissful and sad. Its meticulous arrangements, pristine production and densely layered vocals imply years of obsessive work, but it rarely gets bogged down in details. It's perfectionist but not stiff; there's a spirit of freedom and abandon that overrules any rigidity." Wow.
This has been Hype Daily, Mic's morning entertainment roundup. It's everything you need to catch up on in the entertainment world and what to look forward to today. Want to receive this as a daily email in your inbox? Subscribe here.