Here are the major Trump investigations Democrats could launch if they retake the House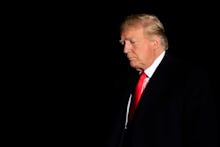 Since his election in November 2016, President Donald Trump has been dogged by outstanding ethical and legal questions, including about his campaign's potential conspiracy with Russia and the numerous potential conflicts of interests related to his business empire.
With Republicans controlling both the House and the Senate, he has largely managed to avoid accountability, so far. But that could all change if Democrats regain the House after the Nov. 6 midterms, as they're expected to do.
While Republicans have mostly either ignored or glossed over for the president amid his many scandals, a Democratically controlled Congress would be expected to launch and intensify probes into a wide range of possible misdeeds — both by Trump and members of his administration.
Democrats have already explicitly called for a number of the inquiries. Others have been anticipated by Republicans, who have circulated a list of possible areas Democrats could plan to investigate if they control the House, according to Axios.
"The fact of the matter is that the American public has had enough of the Republican Party covering up Trump's misconduct and corruption," Rep. Gwen Moore (D-Wis.) said in an email. "They want answers and Democrats are going work to provide them and hold the president accountable."
Here are some of the major areas Democrats could investigate if their blue wave washes over Capitol Hill.
Trump's tax returns
Trump has broken with longstanding precedent with his refusal to release his tax returns — something every president since Richard Nixon has done.
But Democrats, who have sought the returns since 2016, will almost certainly make a intense push for Trump's taxes if they assume control of the House of Representatives.
There's a lot Americans would be able to learn from Trump's tax documents, but perhaps most significant would be what his finances reveal about his financial ties to foreign banks and governments.
Such revelations could paint a fuller portrait of his links to foreign countries, potentially including Russia.
They could also reveal other potential financial misdeeds, like the many fraudulent tax schemes he and his family are alleged to have engaged in for years — many of which were detailed in a recent review of Trump's finances by the New York Times.
Trump's campaign ties to the Kremlin
Special counsel Robert Mueller is still leading the FBI investigation into possible conspiracy between the Trump campaign and Moscow's meddling in the 2016 election, along with potential obstruction of justice on the part of the president.
But a separate probe by the House Intelligence Committee — which had been one of three congressional Russia inquiries — was shut down in March by allies of the president whom Democrats said "tanked" the investigation to protect Trump.
If Democrats regain the majority in the House, however, they could resuscitate that investigation to pursue avenues of inquiry, witnesses and documents they say Republicans concluded the probe without examining.
House Democrats could also play a major role in holding Trump accountable if Mueller finds evidence of criminal conspiracy or obstruction on the part of the president.
Mueller, who has led the probe since the firing of then-FBI Director James Comey in May 2017, is expected to issue his key conclusions to the Department of Justice after the Nov. 6 elections.
While it's not clear if Trump could face legal action while in office if Mueller finds evidence of wrongdoing, proof of collusion or obstruction could lead to significant political pressure on the president — including the possibility that Democrats could try to impeach him.
Such an effort would begin in the House, under the U.S. Constitution. The House would need a simple majority to send Trump's impeachment to the Senate, which would then be responsible for deciding whether to convict or not.
Even if Democrats make gains in November, it still appears unlikely they'd be able to oust Trump from office. Only two presidents — Andrew Johnson and Bill Clinton — have ever been impeached, and neither was removed from office. Nixon faced likely impeachment and ouster, but resigned before any official actions were taken.
While most prominent Democrats, including House Minority Leader Nancy Pelosi, have sought to avoid discussing impeachment, Trump himself has framed the upcoming election as a fight for the fate of his presidency.
Trump hush agreements
Another area Democrats could look to examine if they retake the House is Trump's role in the hush agreements his former attorney and fixer, Michael Cohen, paid to women who claimed to have had affairs with him.
Cohen in August pleaded guilty to eight crimes, including a pair of campaign finance violations he said he committed at Trump's direction.
The guilty plea came after a monthslong federal investigation into his efforts ahead of the 2016 election to silence women who allegedly had affairs with Trump — adult actress Stormy Daniels and former Playboy model Karen McDougal.
Trump and the White House have denied wrongdoing, and the president has attacked both Cohen and Daniels as the scandal has unfolded.
Kavanaugh sexual abuse allegations
House Democrats have also vowed to investigate the sexual abuse allegations against Supreme Court Associate Justice Brett Kavanaugh, who was confirmed by the Senate in early October.
Trump's nominee had been publicly accused by three women, including Palo Alto University psychology professor Christine Blasey Ford, of sexual misconduct while he was intoxicated in high school and college.
In a stirring testimony before the Senate Judiciary Committee in September, Ford described how Kavanaugh drunkenly forced himself on her and stifled her attempts to call for help during a party when they were teenagers in the early 1980s.
Kavanaugh angrily denied the allegations in his own testimony, but made what appeared to be a number of false, dubious or politically charged claims in doing so that raised serious questions about his credibility.
Still, after a brief FBI investigation that Democrats described as inadequate, Kavanaugh was confirmed by the Senate in a largely party line vote.
But Democrats after the confirmation said that they'd take up an investigation into the assault allegations, along with accusations of perjury, if they regain control of the House.
"It is not something we are eager to do," Rep. Jerrold Nadler (D-N.Y.), the top Democrat on the House Judiciary Committee, told the New York Times after Kavanaugh's confirmation. "But the Senate having failed to do its proper constitutionally mandated job of advise and consent, we are going to have to do something to provide a check and balance, to protect the rule of law and to protect the legitimacy of one of our most important institutions."
Abuse of power by Trump and administration officials
Democrats could also soon investigate possible abuses of power by Trump, including the possibility that he has sought to profit from the presidency.
Trump has a number of outstanding conflicts of interest, and the line between his business interests and his public office has frequently been blurry.
Democrats could more closely scrutinize Trump's businesses and possible violations of the emoluments clause if they take the House.
They could also examine the business dealings and potential abuses of office by others in the Trump administration, including Ryan Zinke — the secretary of U.S. Department of the Interior who has come under scrutiny for a number of possible ethics violations, including potentially inappropriate business dealings and relationships with the industries he's supposed to regulating.
Several other Trump administration officials, including former Health and Human Services Secretary Tom Prince and former Environmental Protection Agency administrator Scott Pruitt, were forced to resign amid similar scandals.
Trump's handling of Puerto Rico tragedy
The Trump administration's handling of hurricane-ravaged Puerto Rico could also become the subject of a congressional inquiry in the coming months.
Trump has maintained that his administration's response to the devastating Hurricane Maria in 2017 was an "unsung success," but an independent report in August found that the death toll was actually close to 3,000 people more than the government had initially reported.
Trump has said the independent report was a ploy by Democrats to make him look "as bad as possible" and challenged the number, tweeting in September that the death toll was not 3,000, but "6 to 18."
"I love Puerto Rico!" he tweeted.
In addition to seeking answers on Puerto Rico, Democrats could also examine the administration's handling of other major issues and some of its controversial policies.
According to the Republican memo outlining some of the possible investigations Democrats could launch, other areas of inquiry could include the 2017 dismissal of the EPA's Board of Scientific Counselors — which was first reported by Mic — and the administration's travel ban and family separation policy.