Meet the teacher who traveled through 9 countries and worked as a stripper trying to reach the US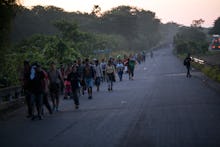 Back in Cuba, Luna made $15 a month working as a teacher — a salary that left her and her family living in poverty and facing hunger daily.
In Chiapas, Mexico, she can earn the same amount in just one shift at her new job, working as a stripper in a nightclub.
Luna — whose name has been changed to protect her identity — left Cuba in early 2018 to begin her journey toward the United States, where she hopes to study nursing in order to help lift her family back home out of poverty. She has traveled through nine countries, including a two-week stretch without food in the jungle of Panama after her guide abandoned her.
Now, she is waiting, stripping and saving money in hopes of crossing the border soon. Thousands of immigrants from Central America and the Caribbean travel through Mexico every year to reach the U.S. Many immigrant women in transit to the U.S. end up working in the nightlife and sex work industries to afford the remainder of their journeys and living expenses.
Luna is migrating at a time when the president of the U.S. has turned his full attention toward immigrants from Mexico, focusing his tweets and ensuing media attention on the "caravan" of migrants making their way from Guatemala to Mexico before the U.S. elections in November.
Mic reporter Tarek Turkey joined the migrants on their journey and spent time with Luna in Chiapas for a series of episodes of Mic Dispatch airing this month on Facebook Watch.
President Donald Trump has frequently invoked the caravan, which originated in Honduras Oct. 12 and is currently reported to include 7,000 migrants, ahead of the November midterms, using campaign rallies to hit back against the traveling migrants and falsely blaming their approach on Democrats. Trump has made incorrect claims about the caravan to stoke racist fears, claiming the group includes "Criminals and unknown Middle Easterners" before admitting that he had no proof to back up the Middle Easterners claim.
The president has also threatened to cut off aid to Central American countries and used the caravan to push his anti-immigration policies, reportedly planning to deploy 800 military troops — which could increase to 10,000, according to the New York Times — to the border to serve in support roles.
"That is an assault on our country and in that caravan you have some very bad people and we can't let that happen to our country," Trump claimed during a recent Houston rally.
"I think the Democrats had something to do with it," Trump then speculated, though there is no evidence linking Democrats to the migrant group.
According to the San Francisco Chronicle, the Trump administration is now considering an executive action similar to the president's controversial travel ban, which would bar Central Americans from claiming asylum at the border.
The executive action would be under the Immigration and Nationality Act, which gives the president power to ban certain classes of immigrants from entering the country if they are considered to be "detrimental to the interests of the United States." Civil rights and immigration groups have decried the potential move, which Human Rights First president and CEO Mike Breen described in a statement as a "Latino Ban," and groups including Human Rights First and the American Civil Liberties Union have already threatened potential legal action.
"It is unconscionable that Trump continues to play political games while putting forth radical and extremist policies which will have real-life consequences for people seeking to exercise their legal rights to apply for asylum, as well as cause unprecedented economic harm to the vibrant U.S.-Mexico border communities that depend on migrants coming back and forth daily," Marielena Hincapié, executive director of the National Immigration Law Center, said in a statement.
The migrants' journey isn't about political partisanship
While Trump may be highlighting the caravan ahead of the midterms to stoke anti-immigrant fears and turn out the Republican base, for those taking part in the caravan, their journey to the U.S. is anything but a political game. The Central American caravan, which reportedly consists largely of migrants from Honduras, is made up of women, men and children escaping violence, economic struggles and other hardships in their native countries.
"All of us come fleeing from violence and the lack of employment that the current government has for us," Denis Omar Contreras, a Honduran immigrant and volunteer organizer, said in an interview in Tecun Uman, Guatemala. "We are people who got tired of the current government that we can't stand anymore. And the best option for mothers, families and us men is to arrive at the border with the United States and ask for political refuge."
Another Honduran migrant on the caravan, a 17-year-old named Samuel, said he had joined the group because "in Honduras, you just can't live anymore."
"Look, the truth is that Honduras is really tough," Samuel said. "You can't — There's no work, there's a lot of crime and the truth is that the president who governs us has no dignity."
News of the caravan reportedly spread initially through social media, with thousands of discontent migrants quickly joining the group as it departed. According to CBS News, the migrant caravan is now reported to be the largest on record. It is five times the size of a previous caravan in April that similarly drew Trump's ire, which began with 1,500 migrants and ended with 401 migrants ultimately requesting asylum at the U.S. border.
The traveling migrants, who are traveling 20-30 miles per day and are at least 1,000 miles from the U.S. border, are gaining support from those in local communities; volunteers in Mexico distributed food to the migrants, saying that the suffering migrants needing food had "touched [their] hearts."
But the migrants have also faced struggles, including the treacherous route to the U.S. border — which will go through areas where violence is rife and migrants are routinely targeted — the physical demands of the long journey and Mexican police, who clashed with migrants at the Guatemala-Mexico border as riot police used tear gas against the travelers.
"We're helping our compatriots because they do not want to let them pass," one volunteer said as he helped migrants cross the Suchiate River on the Guatemala-Mexico border. "I was not up there, but I've been down here supporting the homies. But the truth is, they have been throwing tear gas up there and there are children. They do not want to respect the children. It is not fair."
"Let them be welcome," the volunteer continued. "They are my compatriots. We are here to support them. It doesn't matter how repressed they are from the police and migration control. They are our people. Here we are going to support each other."
Mexican officials initially stopped the caravan from entering Mexico — prompting many to cross into the border illegally through unofficial crossings — but later let the migrant group pass into the country. Several hundred members of the group have chosen to be processed legally by Mexican immigration authorities and were taken into a shelter in southern Mexico, the Washington Post reported.
Despite the challenges, many of the migrants remain resolute in their long journey.
"I came alone, but the truth is that I have a lot of energy to keep moving forward," Samuel said. "And I know that all the people who are here also bring those energies. And we're going up with everything we got. Let's see what happens, man."
The teenaged Honduran also gave Mic a message to Trump and the American people: "Please offer us your hand."
"Well of course I'll say something to Donald Trump if he's watching," Samuel said. "We're all human and we have needs."
"But really, to the people of the United States, please offer us your hand," Samuel continued, adding that he hopes Americans "may have a noble heart in helping us."
"They don't have to care about Donald Trump. Donald Trump does not own anyone. Only God is the owner of the world."
Check out this episode of Mic Dispatch — only on Facebook Watch.
To catch future episodes of Mic Dispatch, follow Mic Dispatch on Facebook Watch. For more stories about the show, visit the Mic Dispatch collections page.