Two more packages found addressed to Sen. Cory Booker and former Intel Chief James Clapper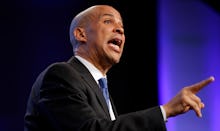 Two more packages containing improvised explosive devices were found Friday morning, one at a mail distribution center in Florida addressed to New Jersey Democratic Sen. Cory Booker, and another at a mail sorting facility in Midtown Manhattan addressed to former Director of National Intelligence James Clapper, NBC News reported.
The package intended for Clapper was addressed to CNN, the New York Times reported. It was found at a postal sorting facility in Midtown, and it did not make it to CNN's New York headquarters like the one found on Wednesday that was addressed to former CIA Director John Brennan.
The new packages bring the number of IEDs found sent to politicians, celebrities and news organizations this week to 12, as law enforcement officers race to find the culprit behind the string of attempted bombings targeted at Democratic officials, donors and CNN.
All of the targets of the IEDs have been on the receiving end of President Donald Trump's verbal attacks.
Federal law enforcement officers have not yet determined who is behind the attempted attacks. But the focus has turned to Florida, where several of the packages containing the IEDs were sent through, according to CNN.