Yandy pulled "sexy Handmaids" costume in hours, but refuses to pull Native American-themed costumes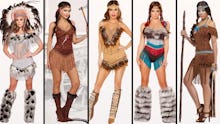 Yandy.com, the website behind the recently pulled "sexy Handmaid's costume," is coming under fire in a new petition taking aim at the brand's refusal to stop selling Native American-themed costumes.
The site currently features 44 options on its Native American costumes landing page. "Embrace nature in this Native American seductress costume featuring a strapless minidress with a lace-up bodice, a feather and fringe trim, a blue intricate detailing and a matching headband with beaded feather accents," one description reads.
The site says the costumes are intended to be an homage to the "beauty of tradition." Many see it as the opposite.
"Our traditional dress and regalia are sacred, and any commercialization of it is disrespectful in itself, not to mention the sexualization of it," Zoe Dejecacion, the woman behind the Change.org petition, writes on the site. "These costumes contribute to harmful fetishes, and are completely irresponsible to sell when 96% of the perpetrators of sexual violence towards Indigenous women are non-Native. 
The petition, which has been live for one week, has at the time of this writing amassed 23,822 of the 25,000 signatures it's asking for.
Has Yandy issued any formal response or at least acknowledgment of the petition? Sort of. In a story published Friday in the Albuquerque Journal, guest columnist Amanda Blackhorse alleges she was threatened with arrest when she presented the petition to Yandy CEO Jeff Watton at the company's Phoenix-based headquarters.
It's certainly not the first time Watton has been taken to task on the matter. In fact, a 2017 Cosmopolitan investigation into how Yandy works included an interview in which Watton justified the sales, which the company alleged were upwards of $150,000 by 2016.
In the piece, Watton blatantly argues a lot of young women don't care about political correctness and "grew up with Pocahontas as a figure that they idolize or wanted to dress as."
Is there was any chance the site would phase out the costumes? In the Cosmo interview, Watton said he'd consider it "if it gets to the point where there is, I guess, significant demonstrations or it gets to a point of contentiousness that maybe is along the lines of the Black Lives Matter movement" then it may be "too hot of an issue."
Could the added pressure of the petition and the coverage around it get Yandy to bend as it did for the "sexy Handmaid's" costume? Only time will tell. But Blackhorse says this week she and other Native American women will go back to the site's headquarters and protest. "The company needs to be accountable to the very people it claims to honor," she writes. "Stop selling those offensive costumes, Mr. Watton. It's past time."