Food and Politics: Beto O'Rourke crashes a wedding; Jared Kushner's brother eats cake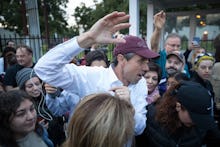 Dining out has been tough for conservatives lately — just ask Senate Majority Leader Mitch McConnell (R-Ky.). On Oct. 19, McConnell and his wife, Secretary of Transportation Elaine Chao, were spotted eating at Havana Rumba restaurant in Louisville, Kentucky. In a video obtained by TMZ, a man can be heard yelling at McConnell.
"Why don't you get out of here? Why don't you leave our country alone?" the man screamed as McConnell and Chao remained silent. According to local TV station WLKY, the man "slammed his fists down on McConnell's table, grabbed his to-go box and threw the food out the door of the restaurant."
The View's Meghan McCain thought it was appropriate to compare the McConnell incident to the recent string of mail bombs targeting prominent Democratic officials and supporters. During Wednesday's episode of the talk show, co-host Joy Behar singled out McConnell amid a discussion of the mail bombs.
"Mitch McConnell, where is he? He's the leader of this party," Behar said.
"He's getting harassed and heckled when he goes out in public to have dinner with his wife, and so are we," McCain replied, seemingly implying restaurant ruckus and improvised explosive devices were equally threatening.
Meanwhile, Rep. Nancy Pelosi (D-Calif.) was badgered at a campaign event in support of Democratic candidate Donna Shalala in Coral Gables, Florida, on Oct. 17. Shalala is running to fill the seat vacated by outgoing Republican Rep. Rep. Ileana Ros-Lehtinen.
"You don't belong here, you fucking communist," an individual reportedly yelled at Pelosi as she entered Shalala's headquarters. Rumors circulated on social media that the incident took place at a restaurant in Miami, the Washington Post reported, though the video proved otherwise.
"What goes around comes around," one Twitter user wrote.
If you can't dine out, why not order in? Joshua Kushner, brother of presidential son-in-law and White House innovations director Jared Kushner, married model Karlie Kloss on Oct. 18 at a small wedding in upstate New York. There were 80 guests in attendance, according to Harper's Bazaar, including Ivanka Trump, Jared Kushner and model Ashley Graham. In a radio episode of Andy Cohen Live, Graham revealed all phones were confiscated during the event.
In an Instagram story, Kloss later revealed her wedding cake came from her longtime collaborator Christina Tosi's Milk Bar Bakery. The dessert resembled a multi-tier version of Tosi's famous birthday cake, a concoction of "cake crumbs," cream cheese frosting and rainbow sprinkles.
As the midterm elections edge closer, Senate candidate Beto O'Rourke has been making the rounds at a number of Texas restaurants, including a Mexican eatery in Houston, a cafe inside an elevator — yes, really — in Waco and his old standby Whataburger. O'Rourke even crashed a wedding party Saturday.
"A huge congratulations to Amanda and James on their wedding night!" O'Rourke wrote on Instagram. "Thanks for saying hello on your special night."