Trump-backed Rep. Claudia Tenney says president supports immigrants since he's married to Melania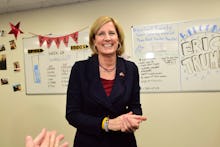 GOP Rep. Claudia Tenney squared off with her Democratic opponent Anthony Brindisi Thursday night for their first debate in New York's hotly contested 22nd District — a debate that focused on hot-button issues like immigration and Russian interference in the 2016 election.
Tenney, a vocal Trump supporter who is heavily backed by the president and even drew a Trump rally to her Utica, New York-based district, said that she supports legal immigration, and added that Trump does too, because he's married to an immigrant. But she suggested that undocumented immigrants are a danger to the safety and security of the country.
"One of the things I find most divisive in this community — by the way, the president's wife, Melania Trump, our first lady, she hails from the former Yugoslavia, she's from Slovenia — so to make this sort of unfair distinction that somehow our refugees, who are legal residents here ... and to try to somehow attack Republicans or the president saying that we are against legal rights and legal immigration, that's not true," Tenney said, when asked to name a positive impact immigrants have had on her district's community. "I think the president just wants to protect us from illegal immigrants, people who can bring harm to our citizens."
Brindisi took a different tone on immigration, saying Washington, D.C., has failed to pass any kind of reform, but that if he were elected he would "work together" with the Senate on the immigration issue.
"The president wants enhanced border security, I want enhanced border security," Brindisi said. "We also have to recognize that when law-abiding immigrants who are here are playing by the rules or paying taxes, they should be able to be allowed to earn citizenship."
The debate was held at Colgate University, Tenney's alma matter. She called the institution a "left-wing crazy school" during a campaign event on Monday.
Comments like that are partly why Tenney is struggling to win re-election in a seat that Trump carried by a 15-point margin in 2016. For example, in February, after the mass shooting at a high school in Parkland, Florida, she claimed with no evidence that the majority of mass shooters are Democrats.
"It's interesting that so many of these people that commit the mass murders end up being Democrats," Tenney said at the time, according to CNN. "But the media doesn't talk about that."
Earlier this month Tenney came under fire from her constituents after saying that dairy farmers who support her opponent aren't "legitimate business owners."
Meanwhile, Steven Alembik, the Republican megadonor who was exposed for calling former President Barack Obama a "fucking Muslim nigger" on Twitter, has made campaign contributions to Tenney, Federal Election Commission filings show.
Republicans have sought to shore up Tenney's position, with Trump holding a fundraiser in the district in August to benefit Tenney's campaign. Eric Trump, one of Trump's sons, also visited the district on Tuesday for a get out the vote event.
The race is currently rated a "tilt Democratic" contest by the non-partisan political handicapping outlet Inside Elections.