Trump casts doubt on attempted bombings, complains about impact on Republicans in stunning tweet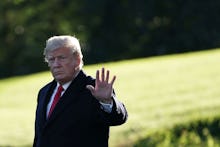 President Donald Trump appeared to cast doubt on the spate of attempted bombings of critics of his administration Friday, tweeting "this 'bomb' stuff" has hurt Republicans ahead of the November midterms.
"Republicans are doing so well in early voting, and at the polls, and now this 'bomb' stuff happens and the momentum greatly slows — news not talking politics," Trump tweeted. "Very unfortunate, what is going on. Republicans, go out and vote!"
It was a stunning tweet after days of attempted attacks on a number of prominent American political figures, including former President Barack Obama, former Democratic presidential nominee Hillary Clinton and at least two sitting lawmakers. It also came just less than an hour before news broke that authorities had arrested a Florida man in connection with the attempted bombings.
Bombs this week were sent or addressed to Clinton, Obama, liberal philanthropist George Soros, former Attorney General Eric Holder, former CIA director John Brennan, former director of national intelligence James Clapper, actor Robert De Niro, former Democratic National Committee chair Debbie Wasserman Schultz, former Vice President Joe Biden, Rep. Maxine Waters (D-Calif.) and Sen. Cory Booker (D-N.J.).
Two of the packages addressed to Brennan and Clapper were also addressed to CNN, which was forced to evacuate its New York headquarters at the Time Warner Center Wednesday when an improvised explosive device was found in its mailroom.
A manhunt is underway for the person or persons behind the attempted attacks.
All of those targeted have been critical of Trump, and the president has waged high-profile rhetorical attacks on each.
The attempted bombings have put a renewed focus on Trump's dangerous rhetoric toward his political opponents and his encouragement of violence toward the media.
He initially said in brief remarks Wednesday afternoon the attempted attacks were "abhorrent" and called on Americans to "unify." But he continued to attack Democrats and the media at a campaign rally later that evening, and by Thursday was claiming it was actually the media, not his rhetoric, fueling divisions in the country.
Several of Trump's allies on the right have suggested without evidence in recent days the attempted attacks are a "false flag" operation meant to hurt Republicans ahead of the Nov. 6 elections.
Trump in his tweet Friday seemed to back those conspiracy theories, putting the word "bomb" in quotation marks and complaining Republicans' supposed momentum had been slowed.
In an earlier tweet Friday, he lashed out at "lowly rated CNN" for suggesting his rhetoric could have played a role in the attempted attacks on his political opponents.