While You Weren't Looking: 5 stories from the Trump administration that aren't about pipe bombs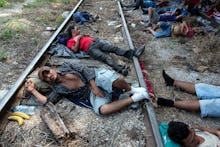 On Monday, the first in a series of package bombs arrived in the mailbox of Democratic billionaire George Soros. By Friday, a total of 13 bombs had been identified — all addressed to prominent Democratic party members, a celebrity and frequent critics of President Trump — and a suspect had been apprehended.
The whirlwind news cycle prompted a response from Trump himself, who on Wednesday said that Americans needed to "unify and send a clear message that acts of political violence have no place in the United States." But by Thursday morning, the president had seemingly changed his tune, writing on Twitter that "a very big part of the anger we see today in our society is caused by the purposely false and inaccurate reporting of the mainstream media that I refer to as fake news."
"It has gotten so bad and hateful that it is beyond description," Trump continued, in spite of a bomb threat that had caused cable news station CNN to evacuate its Manhattan headquarters on Wednesday. "Mainstream media must clean up its act, FAST!"
While the nation was awaiting the capture of the so-called "package bomber" with bated breath, here's what else was happening in Trump's America.
GAO report finds that Trump administration wasn't equipped to handle family separation
A new report from the U.S. Government Accountability Office out this week found that the Departments of Homeland Security and Health and Human Services were not adequately prepared to handle the consequences of the "zero tolerance" policy the Trump administration informally instituted in April 2018.
According to the report, key officials interviewed from both agencies told GAO that the memo directing officials to begin forcibly separating immigrant families so that parents could be processed criminally came as a surprise.
As if to underscore the report's findings, the U.S. government on Thursday announced that although it had previously claimed that there were 2,654 children in the custody of the Office of Refugee Resettlement, it had recently identified 14 more children in ORR custody that had not been counted in the original tally — bringing the final count to 2,668.
"Given the lack of a plan or system to keep track of families, it's no surprise the original numbers were inaccurate," Lee Gelernt, the attorney from the American Civil Liberties Union who argued the case against the family separation policy in court, said in a statement.
Trump signs bipartisan legislation bundle aimed at curbing American opioid epidemic
One year after he officially designated the American opioid epidemic a public health emergency, Trump on Wednesday signed a bipartisan legislation package aimed at curbing addiction in the country.
"Together we are going to end the scourge of drug addiction in America," Trump said during a bill signing ceremony at the White House. "We are going to end it or we are going to at least make an extremely big dent in this terrible, terrible problem."
The president also announced that he had locked down an additional $6 billion in funding to help combat opioid abuse — a number he called the "most money ever received in history" to be used for such a purpose.
The Centers for Disease Control and Prevention reports that some 72,000 Americans died from drug overdoses in 2017, the highest that number had been in almost 40 years.
Trump mulls using executive action to seal the border from migrants and asylum seekers
As a massive caravan of Central American immigrants slowly makes its way toward the southern border of the United States, Trump is reportedly considering invoking executive privilege in order to seal the border from all migrants, including would-be asylum seekers.
The Pentagon is also mulling other options when it comes to fortifying the border, with Defense Secretary Jim Mattis reportedly poised to sign an order that would mobilize as many as 800 to 1,000 U.S. troops as early as Thursday to help fend off what Trump has characterized as a "national emergency."
The news also came just days after Homeland Security Secretary Kirstjen Nielsen said in a Thursday interview with Fox News that the U.S. Border Patrol has no intention "right now" of shooting at migrants attempting to cross into the country unlawfully. 
"We do not have any intention right now to shoot at people," Nielsen said in an interview with Fox News. "They will be apprehended, however."
Farmers brace for more financial woes amid ongoing trade war
As Trump's worsening trade war with China threatens to stretch on indefinitely, farmers are bracing for another lackluster growing season amid sagging commodity prices.
"2019 right now looks like another difficult year," David Widmar, an agricultural economist who monitors trends on farm income and crop budgets, told Politico this week. "Early on, we were worried about how far down farm incomes would drop. Now we've switched to 'How long will this financial erosion continue?'"
According to an estimate by the Agriculture Department's Economic Research Service, the total net farm income for 2018 will come to about $9.8 billion — down 13% over the previous year. And agriculture economists predict that farm profitability is poised to sink even lower in 2019, with the cost of farm equipment made from heavily taxed materials like steel and aluminum up, and the price of key U.S. agricultural goods, like soybeans and pork, down significantly.
Mnuchin secretly met with the Saudi Crown Prince in the wake of dissident journalist's murder
In the aftermath of the murder of dissident Saudi journalist Jamal Khashoggi, Treasury Secretary Steve Mnuchin reportedly engaged in a quiet meeting with the country's leader and a suspected accomplice in the killing, Crown Prince Mohammed bin Salman.
News of the meeting comes amid national outrage with the Saudi government after Turkish officials confirmed that Khashoggi — a frequent critic of the kingdom's royal family — had been killed and dismembered with a bone saw after he entered the Saudi consulate in Istanbul to obtain marriage documents on Oct. 2.
As Time reports, Mnuchin's audience with the 33-year-old Crown Prince is a likely indicator that the White House is seeking to massage relations with Saudi Arabia at a time when the country is being scrutinized on the world stage — and particularly as a $110 billion arms deal, announced by Trump back in May 2017, hangs in the balance.