Chance Perdomo talks exploring pansexuality and feminism in Netflix's new 'Sabrina'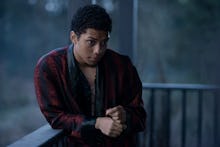 Chance Perdomo has all the makings to become one of the breakout stars of the new Netflix series The Chilling Adventures of Sabrina. He's got the acting chops, the obvious charisma, the you-could-read-me-the-phone-book voice and it certainly does not hurt that he's very, very good looking. "Harvey who!!!! Ambrose is a SNACK," the writer Ira Madison eloquently shared on Twitter in regard to Perdomo and his character, pansexual necromancer Ambrose Spellman, on the recently launched series.
As it turns out, this is Perdomo's first role in the United States; his largest role to date was in the U.K. film Killed by My Debt. Though he was born in Los Angeles, Perdomo grew up in Southampton, a port city on England's South Coast.
Before he pursued acting with a blessing from his parents, Perdomo had a number of odd jobs, including shoe salesman and working in a cinema. He attended the Identity School of Acting, whose alumni include John Boyega and Letitia Wright.
Shortly after graduating, he locked down his first lead role in Killed by My Debt and a few months later, he was off to Vancouver, Canada, to shoot Sabrina. Below, Mic chats with Perdomo about his role as Ambrose and gets his thoughts on the show's deeper messages around feminism and inclusivity.
Mic: Ambrose first appeared in a very different form in the Sabrina comic book. Can you talk about how the character was first described to you and how much of a deviation Ambrose on the series would be from Ambrose in the comic?
Chance Perdomo: Well, firstly, Ambrose is very different to the Ambrose that you may have seen briefly in the comics, even in the Chilling Adventures comic. Much in the same way that Captain America or Thor is different in the cinematic universe than they are in the comic. When I went in for the screen test, I wanted to buy some clothes to try to fully embody the character and they said, "Think David Bowie on a quiet day." So I guess I managed to figure out what that means.
Ambrose is very purposefully described as pansexual and not bisexual. Can you talk about how you came to understand and live within Ambrose's sexuality?
CP: I didn't know too much beforehand on pansexuality. The creators and I had a chat and we didn't want to make it too much of a buzzword, so we established that it was part of Ambrose's storyline and who he is fundamentally and after that we kinda just get right along with the story and didn't try to explain it. I think the reason that it's put in the character breakdown, that he is a pansexual necromancer, is because of people like myself who may not have been aware as much about pansexuality within the LGBTQ community.
What I love about Ambrose's journey is the depth that's explored. Queer characters, especially navigating relationships, aren't always given such nuance. How did you avoid making Ambrose feel saccharine? I ask that because I think in a number of other actors' hands he might have felt that way.
CP: Well, the great thing about Netflix is that because they represent a global audience, they have an obligation to represent accurately the global world we live in today. So we find that we are moving away from the archaic post-colonial marriages where the white man saves the damsel in distress. That's not necessarily an accurate representation of the world we live in today. From an acting perspective, I wanted to focus on what drives Ambrose and not pander to any audience or oversimplify his journey.
Were you a fan of the earlier Sabrina the Teenage Witch TV series?
CP: I was a fan insofar as when I would come home from school I would casually catch a rerun here or there. I didn't really watch too much, but I was aware just like the whole world was aware because it was a hella popular show.
Britney Spears, Usher and NYSNC all guest-starred on Sabrina the Teenage Witch and I know Ambrose has some Jimi Hendrix, David Bowie influence. So for season two, if you were to have a famous musician guest star, who would you want?
CP: Justin Bieber because that would probably be hilarious. I don't know how. I don't know why he would be in the world. But to see Justin Bieber interact with all of our characters would be great. And Dwayne Johnson, oh my God, Dwayne Johnson!
This show seems to largely focus on a woman's autonomy of choice. One could call this a universal feeling — that of wanting to break free from oppressive forces — but I can't help but find this show to be deeply specific to young women. How do you see it?
CP: Yes, it's a universal existential theme, to break free from an oppressive society but, one, we look at from the medium of horror. And, two, we look at it through the eyes of a young witch. Because it's through Sabrina's eyes, it does take a feminist standpoint, but it really is a universal thing. Say you were to look at it through the lens of Ambrose, it might take on themes of post-colonialism or race.
What has this last few weeks been like for you as you're starting to see your fame rise in the lead-up to the show's premiere?
CP: I wouldn't have the arrogance to say that I'm ready for it, but I wouldn't be so meek as to say that I'm not ready for it. What I would say is that I welcome what comes, and I look forward to navigating this journey.
My last question: Halloween is right around the corner, perfectly timed for the show. What are your plans for Halloween and will you be dressing up?
CP: I might. I've always wanted to dress as a salt and pepper shaker but I never could find salt and pepper shaker onesies, but this year might be the exception. But I don't have any plans. If I was home with my family I would probably be trick or treating, but since I'm not, it will probably be enjoying the company of my friends and cast.