Florida man Cesar Sayoc arrested in connection with string of mail bombs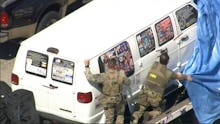 The FBI has arrested a man in Florida in connection with the 13 improvised explosive devices sent to Democratic officials, donors and CNN in recent days, FBI Director Christopher Wray announced Friday afternoon.
The suspect in custody is Cesar Sayoc Jr., a Florida resident in his 50s. CNN reported Sayoc has a criminal history and ties to New York, where many of the bombs were sent.
Wray said the FBI found Sayoc through forensic evidence, including DNA and fingerprint analysis, and that the IEDs were "not hoax devices." He also warned there may be more devices in the mail and cautioned the public to be vigilant.
Attorney General Jeff Sessions announced Sayoc faces five federal charges, including illegal mailing of explosives, which together carry up to 58 years in prison.
"This is a law-and-order administration," Sessions said at a news conference. "We will not tolerate such lawlessness, especially political violence."
Sessions and Wray both declined to comment on motivations behind the attempted bombings. Wray also declined to comment on when he briefed President Donald Trump on the investigation.
The timing of what Trump knew and when he knew it is of note, though, given that just before the announcement that Sayoc was in custody Trump tweeted a baseless conspiracy that the bombs were fake and were intended to cause harm to Republicans' momentum in the midterms — claims that do not appear to be true.
According to Florida voting records, Sayoc is a registered Republican; social media posts show he attended a Trump rally as a supporter in October 2016 ahead of the presidential election.
Federal authorities have also recovered a white van in Florida and are transporting it to a facility. A tarp has been placed over the vehicle, but images taken before it was covered showed stickers that appeared to be pictures of President Donald Trump as well as Hillary Clinton, former President Barack Obama and CNN's Van Jones in crosshairs, among others.
"Law enforcement has apprehended a suspect and taken him into custody, an incredible job by law enforcement," Trump said Friday at a White House event for black Trump supporters, who were dressed in red "make America great again" hats and cheered the president as he walked onto the stage.
"These terrorizing events are despicable and have no place in our country," Trump added. "We will prosecute them, him, her, whoever it may be, to the fullest extent of the law. We must never allow political violence to take root in America."
The event at which Trump made the comments Friday was organized by Candace Owens, communications director for the conservative advocacy group Turning Points USA. Owens, who has risen to prominence as a black Trump supporter, tweeted her own conspiracy theory Wednesday afternoon suggesting the bombs were part of a "false flag" operation meant to hurt Republicans.
"I'm going to go ahead and state that there is a 0% chance that these 'suspicious packages' were sent out by conservatives," Owens tweeted. "The only thing 'suspicious' about these packages is their timing. Caravans, fake bomb threats — these leftists are going ALL OUT for midterms."
All of the targets of the IEDs have drawn Trump's ire. Those on the receiving end of the mail bombs include Obama, former President Bill Clinton, former Secretary of State Hillary Clinton, former Vice President Joe Biden, Democratic megadonor George Soros, former CIA Director John Brennan, Democratic Reps. Maxine Waters and Debbie Wasserman-Schultz, Democratic Sen. Cory Booker, former Director of National Intelligence James Clapper and actor Robert De Niro.
The two bombs sent to Brennan and Clapper were also addressed to CNN; the device mailed to Brennan actually made it into CNN's New York headquarters Wednesday, sparking an evacuation of the building.
Friday, Oct. 26, 2018 3:12 p.m. Eastern: This article has been updated.