Regaining headspace on the Friendly Isle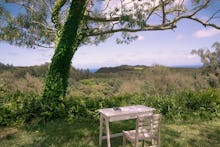 How a fashion writer and photographer found big ideas on Molokai.
Mariana Leung's busy schedule as a fashion writer, designer, and photographer in New York City leaves little time for taking stock.
On a typical day, Leung will either be shooting from the trenches at a runway show, writing recaps for her blog, planning luncheons for corporate clients, or even potentially launching her own gourmet jam line.
A multidisciplinarian in every sense of the word, Leung earned the nickname – and later blog name – Ms. FABulous while attending Parsons School of Design, due to her sociable personality and eye for style. Having regularly worked events at New York Fashion Week since 1993, Leung has done nearly every fashion job imaginable, from technical design to helping to dress supermodels. This experience in the fashion world has paid off in droves and made Leung's Ms. FABulous blog a respected outlet for fashion news, tips and roundups.
But another key to Leung's success, both professionally and emotionally, didn't come from the fashion shows of Manhattan but from her time spent at a different locale nearly 5,000 miles away.
Back in 2000, Leung and her now-husband needed a break from the hustle of New York City, craving a chance to recharge. Her partner's parents had visited the island of Molokai, Hawaii's fifth largest island, several times throughout their lives and had dreamt of retiring there. "They always considered Molokai the ultimate paradise," she said.
With his parents' inspiration and their bags in tow, the couple flew to Hawaii.
Molokai is only 260 square miles but even for its humble size, the island features vast geographic diversity. It's home to both the highest sea cliffs in the world and Hawaii's longest fringing reef. Visitors will discover idyllic beaches, dreamlike jungles, sprawling valleys and one of the most remote settlements of the Hawaiian Islands, the Kalaupapa National Historical Park.
Unlike other Hawaiian islands, Molokai (commonly known as the "Friendly Isle") doesn't have any heavily developed tourist areas. There are no skyscrapers, malls, golf courses or high-end dining. Nearly half of the island's inhabitants are Native Hawaiians, according to cultural practitioner Greg Solatorio. And he would know, as Solatorio has lived off the land in Molokai his entire life, just like his ancestors did before him.
One of the last descendants of the Halawa Valley colony, Solatorio teaches visitors about the culture of Molokai. Travelers can take a tour with Solatorio and experience many Molokai-specific activities, such as learning the traditional farming and homemaking techniques that helped to preserve the islanders' rural lifestyle.
Leung had visited other Hawaiian islands before, but found an entirely new experience on Molokai. "Molokai was really about getting away from the world," she said. "It was an escape." Even though she had no intention of thinking about work while on vacation, the island's calming vibe and the friendly community made her reconsider her fast-paced life and career decisions back in New York. She found that the island's scenery and laid-back nature gave her the headspace to think through big ideas. "I live in Manhattan, and you always have a zillion thoughts [running through] your head," Leung said. "But in Molokai, you are focused on one thought at a time and it helps you stay focused—not distracted."
As a native guide, Solatorio has indeed seen this effect before. "With the scenery and the nature, everything is new and different around every corner," said Solatorio. "The island actually speaks to you." A central tenant to his tours, Solatorio teaches his groups the Molokai principle of "finding the source": to have the tourists dig deep within themselves to find their true nature.
"Seeing a more simple, relaxed life, it makes you reorganize your priorities," Leung said. "You have to ask yourself, 'Why are you working so much and not enjoying life? Are we living to work, or are we working to live?'"
For one day of her trip, Leung got her diving certification. She learned the lay of the land from a local guide, who took her to see sharks, giant sea turtles and manta rays. "It was really spectacular and so exciting," she said. She managed to squeeze in four dives while she was on the island. And while she hasn't had a chance to dive since, she still thinks about the underwater life she saw while on Molokai.
Seeing all the different microclimates on the island elevates and "changes your thinking," she said. "When you live in the city, you live in these concrete buildings. You're in a cell in a box. But on the islands, you can feel all the climates of most of the world in one spot. In one day you can see a rainforest, a volcano and a beach. It forces you to think in different ways."
Another of Leung's treasured memories on Molokai didn't involve dramatic landscapes. It was the warm, down-to-earth sense of community that stayed with her, like bumping into people she had met years ago in London on the island, or going to the same shop as the locals for sweet rolls. "Everyone is super, super friendly," she recalls. "They all seem to know each other. It's such a small world."
When Leung returned to New York, Molokai's sights, scents and tastes stayed with her, eventually making their way into her work. Leung started incorporating breezy, botanical and island-inspired prints into her own textiles and accessories for her label Weng Meng Design. "Smelling the different flowers on the island gives you inspiration, too, and not just the visual kind," she said.
Getting away from her routine, even for just a few days on Molokai, helped Leung feel refreshed and ready to take her career to the next level. "You can get so burned out and stressed out in your day to day life, it's absolutely essential to take a break," she said. "Hawaii is the best place to get away. I would tell people to just go. Enjoy your life, get away from the grind, appreciate your life."
The island also changed how she dealt with the stress of living in New York City. "I took more time for myself," she said. "Molokai reminded me to do that." Returning better-equipped for the city than ever before, Molokai even inspired her and her husband to create their own sanctuary outside New York. The couple recently inherited a farmhouse and instead of selling it, they decided to make it their refuge. "We wouldn't have [thought of] that balance if we didn't go to Molokai and have our priorities shaken up. It really put things in[to] perspective."