This Week in Food and Travel: Bartenders talk about dealing with addiction and anxiety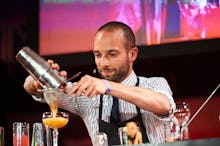 Bartenders are surrounded by alcohol on a near-regular basis — and the constant presence can have an impact on mental health. "Bartending sober is, in a word, hard," Joanna Carpenter, the bar director at Town Stages in New York, said in an email. "You are spending most of your time surrounded by booze and the people consuming it. Everybody experiences a different level of struggle, but for me, one of the toughest things has been the sense of expectation from customers or my peers when I told them I don't drink liquor." Mic spoke to bartenders about the tribulations of navigating their roles in bars — and why self-care and self-control are must-haves in this industry.
In other news, James Beard Award-winning TV personality Andrew Zimmern spoke about immigration and the hospitality world at a recent panel and discussed how consumers are helping to protect immigrants who comprise more than 20% of food service employees.
Also this week, we look into some potentially scary reports, about microplastics in poop and traces of a pesticide in breakfast food marketed to kids.
We talked to drinks professionals about mental health, sobriety and working behind the bar when you don't drink.
Zimmern said the hospitality industry is particularly special because it "disproportionately [affords immigrants] a success story and a path to that American dream."
"This is the first study of its kind and confirms what we have long suspected, that plastics ultimately reach the human gut."
Products with trace amounts of a pesticide deemed unsafe by the Environmental Working Group include Chocolate Cheerios and Quaker Chewy peanut butter chocolate chip granola bars.