What Melania Trump wore her 92nd week as first lady, including to an anti-bullying movie screening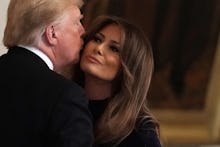 There were no international trips or plane malfunctions for the first lady this week, but that doesn't mean it wasn't a busy one for Melania Trump. While President Donald Trump apparently promoted conspiracy theories on Twitter, his wife had a couple official events, including an anti-bullying discussion and an opioid bill signing.
Without further ado, let's take a look at her outfits.
Tuesday, Oct. 23: A Victoria Beckham leather jacket to an anti-bullying discussion
The first lady hosted a group of local sixth-graders Tuesday at the White House, where she and Education Secretary Betsy DeVos spoke to the kids about bullying as part of Trump's "Be Best" initiative before screening the film Wonder.
"I encourage everyone to be kind to each other and treat each other with respect in everyday life and on social media," Melania Trump told the kids, according to the Washington Post — which noted the somewhat confusing message came just days after her husband called Stormy Daniels "horseface" in a tweet.
Melania Trump showed up in a casual fall look, wearing a brown and blue leather and suede jacket by Victoria, Victoria Beckham, which retails for $895, paired with skinny blue jeans and blue suede stilettos.
Wednesday, Oct. 24: A high-necked navy dress to an event about the opioid crisis
Melania Trump attended an event Wednesday in the East Room of the White House, where she and Donald Trump spoke about the opioid crisis before he signed new opioid legislation into law, CNN reported. Melania Trump wore a navy, long-sleeved turtleneck dress paired with pink stilettos.
Addressing the crowd gathered in the East Room, Melania Trump said her "Be Best" initiative will continue work meant to help children affected by the opioid crisis.
"Over the past year, I have traveled both nationally and internationally, learning about many of the programs offered through private organizations, schools and hospitals which are meant to help children and families as they deal with drug addiction," she said, according to CNN. "What I consistently hear is the need for support at all levels."
Melania Trump also seemed to save the day at the event when her husband started to leave the room before actually signing the opioid bill: She helpfully redirected him to the desk where the bill was waiting.
You can read previous recaps of what Melania Trump wore here.