NBC has officially canceled 'Megyn Kelly Today'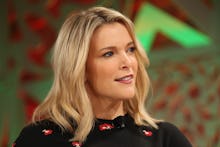 The network has finally made it official — NBC has canceled Megyn Kelly's 9 a.m. program Megyn Kelly Today in the wake of Kelly's comments about blackface on Tuesday. According to the Hollywood Reporter, NBC confirmed that Kelly's 9 a.m. hour was canceled in a "one-sentence statement" that did not give many clues as to which Today anchors will step in to fill the slot starting on Monday.
Before Kelly took it over, that hour had previously been hosted by current Today anchor Al Roker and former NBC personality Tamron Hall, who left the network soon after news broke that Kelly was coming aboard.
According to the Hollywood Reporter, negotiations are still underway to hammer out the details of Kelly's exit from NBC. Kelly's lawyer and the network are reportedly still determining how the payout of the remainder of Kelly's multimillion dollar contact will be handled, and just how long her non-compete clause will be after leaving NBC.
The news that Kelly is officially out follows days of speculation. The drama began on Monday, when Kelly told a panel on her show that she didn't see what was so wrong with wearing blackface for Halloween, adding, "Back when I was a kid, that was OK as long as you were dressing up as a character."
Following massive backlash, Kelly apologized — first in a memo sent to her NBC colleagues and then in a public apology delivered on her show on Wednesday.
She opened her hour by saying, "I'm Megyn Kelly and I want to begin with two words: I'm sorry. You may have heard yesterday that we had a discussion here about political correctness and Halloween costumes. And that conversation turned to whether it is ever OK for a person of one race to dress up as another. ... I defended the idea, saying as long as it was respectful and part of the Halloween costume, it seemed OK. Well, I was wrong and I am sorry."
But her apology wasn't enough to smooth things over at NBC — she didn't appear for a new episode on Thursday or Friday mornings, and now the rumors of her departure have finally been confirmed. That's a wrap on Megyn Kelly Today.