Mic Daily: FBI makes an arrest in Florida related to rash of mail bombs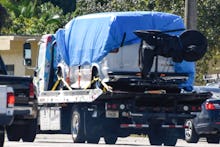 Good evening, folks, and happy Friday! We made it. Before we head off into the weekend, let's go over the five top stories out of Mic today.
Less than an hour before news broke Friday that the FBI had arrested Cesar Sayoc Jr. in connection with a string of explosive devices sent to high-profile Democratic politicians and media figures, President Donald Trump cast doubt on the severity of the attempted attacks — calling it "this 'bomb' stuff."
"Republicans are doing so well in early voting, and at the polls, and now this 'Bomb' stuff happens and the momentum greatly slows," he tweeted.
Of course, the "bombs" Trump referenced in scare quotes were very much literal, functional bombs. Shortly after Sayoc was arrested, FBI Director Christopher Wray announced the IEDs intercepted were "not hoax devices." Sayoc faces five federal charges, which carry a possible 58-year prison sentence combined.
If you, like me, can never escape the clutches of the internet, you may have seen a quiz-type thing called the Moral Machine floating around a while back. On this web page, users were tasked with making decisions akin to "the trolley car problem." It was a thought experiment in which a person has to choose one person out of a pair or a small group to be killed by a runaway self-driving car. (Do you pick the old lady or the dog? The thin child or the overweight child? That sort of thing.)
It was all in service of study distributed by MIT in order to better understand how humans make tough moral decisions similar to the ones autonomous cars will have to make if they're faced with an impending car wreck. The results are pretty fascinating.
Truth be told, the binary along which our public bathrooms are split — male or female — is woefully outdated and not at all in line with modern understandings of gender or sex. A new, innovative design for public bathrooms aims to modernize — and make more compassionate — these spaces we navigate every day.
OK, yes, we all know the British royal family is flush with cash — but where does it come from? And who gets what? Mic contributor Kaitlin Menza has answers.
Mic Daily is Mic's newsletter that cuts through the noise and lands in your inbox every weekday. We carefully curate each edition to send you a cross section of our most vital stories of the day.