How malasada, a Portuguese sugar donut, became Hawaii's favorite dessert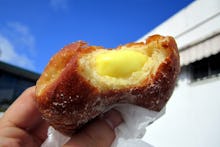 If you haven't heard of the Portuguese malasada before, you'd be in good company. A search through restaurants and bakeries in New York City — the island of virtually any sweet your heart could hope for — finds that seemingly only one restaurant in the area serves the pastry on its menu: a Chinese-Portuguese fusion eatery in downtown Manhattan. You can find the donut in Massachusetts, Rhode Island and California where Portuguese immigrants have settled, but otherwise, finding the potato-looking donut in all of its sugary glory is a rarity.
Yet thousands of miles away, in the middle of the Pacific Ocean and in a climate that averages in the 70s in January, the piping hot malasada is a thriving staple of Hawaii's cuisine, served as sugar-coated appetizers and breakfast items. On a trip arranged by Hawaii Tourism Authority, I recently spent 25 minutes waiting in line at Leonard's Bakery, a Hawaii-based chain, where locals and tourists alike stared in adoration at the pink boxes filled to the brim with malasadas, as a sweet scent wafted out of the store's doors.
As I stood in front of the bakery case waiting to place my order, wrestling with the trying decision to order malasadas coated in cinnamon-sugar or ones with li hing, I was speechless. Food doesn't often leave me without words, but fried dough is an exception (I've been known to get very quiet around funnel cakes). I placed an order for two malasadas, one "original" flavor coated in powdered sugar, and another in cinnamon (both without fillings).
After five long minutes, my number was finally chosen and I picked up the crinkly, warm bag of malasadas from the counter. Sitting in my hot rental car, I bit into the cinnamon malasada which was crispy on the outside. But as my tongue met the middle, it was soft and warm, the whole experience like taking a nap covered in a weighted blanket.
While I enjoyed the malasada, thicker than any donut I'd had before, it looked and tasted nearly identical to the typical sugar donut I'm used to. I couldn't help but wonder how it managed to become such a staple in Hawaii.
Donuts are everywhere, after all. But Hawaii's malasada craze is visible: Near Leonard's, there are a number of similar stores in close proximity, each characterized by long lines of tourists and colorful signage. Malasadas aren't so much as a specialty as they are a staple. So I decided to ask both the expert malasada-makers and Hawaii locals, what makes a malasada so unique? And more importantly, how did a Portuguese donut make its way halfway around the world to become a popular Hawaii dish?
Portuguese immigrants relied on the malasada as a food staple
In a commercial place like Waikiki, a neighborhood of high-rise hotels and home to enormous swaths of tourists, nearly every block is lined in Japanese or Chinese restaurants. But its Portuguese community is just as influential.
In the late 19th century, large numbers of Portuguese emigrated to Hawaii seeking work on sugar plantations, bringing with them foods like Portuguese sausage, made from smoke cured pork, and "filhos" or malasadas, which roughly translates to "poorly cooked" from Portuguese.
The malasada's initial popularity in Hawaii was the result of few staple crops and products, according to Aubrey Warner, owner of Penny's Malasadas on the North Shore of Oahu.
"You had these cultures who were given very little help and staple grocery products," she said by phone. "Because [sugar] was something that was readily available, it became a staple part of their culture and diet."
Upon their arrival to Hawaii, Portuguese immigrants baked malasadas and similar products, like Portuguese sweet bread, in large outdoor stove-ovens made of stone and cement in their backyards. Bakeries became an extension of these backyard cookouts, the first Portuguese bakery reportedly opening as early as 1895.
In a phone interview with Ben Calit, co-owner of Maika'i Lani Malasadas on Maui, Calit added that the malasada soon became a Hawaii comfort food. Hawaii locals even began eating the pastry in preparation for fasting during Lent. With the opening of Leonard's Bakery in 1952 in Oahu, the trend suddenly had an outlet for tourists, too. It's rise, he said, is explained by a diverse community that makes up Hawaii's cultural identity.
Malasada recipes have changed over time — but traditional ones incorporate history
When it comes to technique, the process of creating a malasada isn't that unique from that of a donut, both involving the frying of dough. A malasada, however, incorporates yeast, enriched with butter, eggs and occasionally milk. A typical cake donut, like those you'd see at a Dunkin' Donuts, uses flour instead of yeast, yielding a softer, fluffier texture.
Calit said malasada dough is much more like that of bread. "If you take your average donut, like one from Dunkin' Donuts, and break it open with your hands, you're going to see a bunch of air bubbles," Calit said by phone.
According to Jordan Keao, a Hawaiian chef and owner at Aina in San Francisco, many malasada chains also use a commercialized yeast, or store-bought yeast. But traditional malasadas, unlike donuts incorporating flour, are built over years, he said. Keao has long been cultivating yeast culture which is incorporated into his guava-custard malasadas, topped with coconut sugar.
"[The yeast] develops over time, and you constantly adjust the PH, add a little more flour every other day and you keep on building a life force that becomes a living culture that rises," he said, having used the same yeast culture strain since the opening of his restaurant in 2016. "The best way to relate it is to compare it to wine and cheese. The older it is, the more flavor it has." The end product is a sugar-topped crispy donut, with a moist, yellow interior, slightly rounder in shape.
When it comes to taste, biting into a malasada felt a lot like eating a churro or beignet in terms of its crispness and weight. My malasada from Leonard's was also slightly denser than a donut, packed together like a snowball.
While a typical malasada is coated in powdered sugar, many bakeries and restaurants have also tried to improve upon its form, filling the pastry with flavors like chocolate, lilikoi or haupia (also known as coconut).
Malasadas have become a Hawaii tradition, for locals and tourists alike
The malasada wasn't strikingly different than a donut. But part of its appeal to me felt like it was simply partaking in a tradition, and consuming a food that so perfectly captured an island with a long history of immigration and diversity. Over one-third of Hawaii's population is Asian. And as a Filipino-American, I rarely find myself as part of the majority ethnic group in any given American city, but eating a malasada and my trip in Hawaii felt a little more like home than I'd felt elsewhere.
After a trip of several meals that left me three pounds heavier than when I started, I never finished the malasadas I bought. For a moment, I considered bringing them on my flight home to New York, opening the bag to reveal the their sweet scent to the envy of my adjoining seatmates, but hesitated. I felt like they just wouldn't taste the same. Something about the idea of consuming a warm malasada in 90-degree weather with the mountains in the distance felt integral to my experience — but it will likely become a tradition on my next trip to the islands.
Oct. 30, 2018, 3:50 p.m.: This story has been updated.