In swing districts, Republicans may pay for having tried to reverse the Affordable Care Act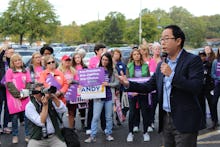 Impact
By
Emmarie Huetteman, Kaiser Health News
EDGEWATER PARK, N.J. — Not long ago, many voters knew little about Tom MacArthur. A low-key moderate Republican congressman in a district that twice went for former President Barack Obama, he burnished his reputation as the guy who worked with Democrats to help rebuild in the years after Hurricane Sandy.
Now, as he wages a bitter fight for re-election to a seat he won by 20 percentage points just two years ago, even some of his supporters have turned virulently against him. The reason? His new reputation as the turncoat whose legislation almost repealed the Affordable Care Act.
Like many Republican candidates struggling to explain how they could support protections for pre-existing conditions while also supporting changes that would gut them, MacArthur has offered vague but persistent promises to shield Americans with medical conditions.
But he also wrote the Republican legislation that would have allowed states to charge those Americans higher premiums or limit what services are covered, gaining enough support for the repeal bill to clear the House last year.
As such, MacArthur's candidacy has become a kind of Rorschach test for Republicans' repeated attempts to repeal and otherwise undermine the Affordable Care Act — and how much candidates in swing districts will pay for those efforts.
If this New Jersey district is any indication, it could be a lot.
Sue Coleman split her ballot in 2016, voting for MacArthur and Hillary Clinton. "I thought he was a moderate, so I voted for him," she said.
Today, the 64-year-old feels so angry that she arrived at a recent political event at the 45th Street Pub here wearing an unruly wig, a full beard and mustache paired with a dark suit and blood-red tie — imitating one of the congressman's top aides who has become a familiar gatekeeper as she and others have personally lobbied MacArthur. The crowd laughed and cheered.
Earlier that day, dozens of people, most of them women, gathered in a strip mall parking lot before scattering to knock on doors on behalf of MacArthur's Democratic challenger, Andy Kim. MacArthur "didn't listen to the people," Nancy Keegan, 57, of Delran Township, N.J., said as she stood with her sisters.
Some of the volunteers couldn't help but point out that the high school across the street was where MacArthur held a nearly five-hour town hall last year that made national headlines for the irate crowd of constituents and protesters who shouted down explanations of his attempts to resuscitate the repeal effort. MacArthur has made fewer, and more limited, public appearances since then.
In a sign of the race's power to help Democrats reclaim the House, members of Planned Parenthood, NARAL and Rep. Katherine Clark (D-Mass.) were on hand to energize the sweatshirt- and sneaker-clad crowd. While it has been about a year and a half since MacArthur saved the Republican repeal effort, the anger hasn't faded. Susan Harper, 64, also of Delran Township and Keegan's sister, said: "I don't think that's going away."
MacArthur, 58, a wealthy insurance executive who has received hundreds of thousands of dollars in corporate contributions and invested millions of his own money in his campaigns, is locked in "a true toss-up" this year, David Wasserman, an editor at the Cook Political Report, said. Kim, 36, — a former Obama administration national security official — had raised $750,000 more than MacArthur by the end of September.
Trump won MacArthur's 3rd Congressional District, which spans the state from the suburbs outside Philadelphia to the tourist destinations and retirement communities of the Jersey Shore. In spring 2017, as House Republicans bickered over how to repeal the health care reform law, MacArthur — then a leader of the chamber's moderate Republican caucus — brokered a deal with far-right members. It would have allowed states to circumvent some of the law's protections for people with medical conditions, if they set up high-risk insurance pools to help cover those patients.
Through that compromise, known as the MacArthur Amendment, the bill passed the House without any Democratic support. It later stalled in the Senate.
Less than a week later, appearing at that town hall in his district's Democratic stronghold, MacArthur spoke of losing his 11-year-old daughter, Grace, to a rare neurological condition, a painful story he had rarely discussed in public.
The death of MacArthur's daughter "is the very reason his constituents do not understand his actions," Maura Collinsgru, the health care program director at liberal watchdog group New Jersey Citizen Action, said. "How could you, having had that experience, justify your votes?"
Democrats across the country have been hitting their Republican opponents hard on the issue in light of the repeal effort and a legal effort by many Republican state attorneys general to end protections for pre-existing conditions. Republicans are fighting back with promises but few plans to match. During a recent forum on a local TV station, MacArthur said: "I fought to protect pre-existing conditions, and I've always supported that."
The MacArthur campaign did not respond to multiple requests for an interview.
Kim, who has never held elected office, started considering whether to run when MacArthur's compromise was released, he said. But he was convinced after doctors warned him and his wife that their unborn son was dangerously underweight.
"I told my wife that if we could get through this, and if our baby is born and he is stable, I want to do what I can to hold my representative accountable for what he did," he said. Today, Kim said, his son is doing fine.
Kim has framed himself as the anti-MacArthur, vowing to hold in-person town halls once a month and reject corporate contributions.
Further complicating MacArthur's re-election prospects is his vote for the Republican tax bill, which the nonpartisan Tax Policy Center said would be most damaging for New Jersey — where it estimated 10.2 percent of households would see their federal taxes increase this year. He was the only New Jersey lawmaker to support it.
Mike DuHaime, a strategist who advised former Republican Gov. Chris Christie on his 2009 campaign, said Kim is benefiting from the "historical and partisan headwinds" facing Republican incumbents in blue states like New Jersey.
"Anyone who thinks Tom MacArthur doesn't care about those with pre-existing conditions is grossly mistaken and completely unaware of the type of person he is," he wrote in an email. "He was trying to forge progress, and when you do that, you will be criticized."
But in a time of such intense political loyalties, it is unclear whether MacArthur's role in trying to repeal the Affordable Care Act would be damaging enough to oust him.
"It seems to me in this election people have chosen their tribal corners and issues have less potency overall," said Tom Moran, the editorial page editor and political columnist at the state's largest newspaper, the Star-Ledger.
"But if there is one issue that penetrates," he added, "it's health care."
Kaiser Health News is a nonprofit news service covering health issues. It is an editorially independent program of the Kaiser Family Foundation that is not affiliated with Kaiser Permanente.