UN says nearly 2,000 migrants leave caravan, seek asylum in Mexico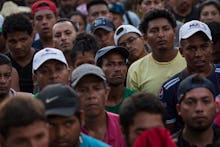 More than 1,750 migrants who had been part of a caravan heading toward the United States border have stopped heading north to seek asylum in Mexico, according to a United Nations official Friday.
President Donald Trump has spent weeks using the caravan of migrants from Ecuador, Honduras and El Salvador to energize his base ahead of the November midterms, stoking racial fears about the migrants and telling supporters that Democrats are behind the "assault" on the U.S.
He has also threatened to send the U.S. military to "CLOSE OUR SOUTHERN BORDER," and Defense Secretary James Mattis is expected to deploy at least 800 troops to the border.
The administration is reportedly planning to bar the migrants from seeking asylum in the U.S. under Trump's controversial travel ban.
But Mexico has offered the migrants temporary asylum in what seems to be an effort to keep them from reaching the U.S. border, and at least 1,750 are believed to have accepted the offer of asylum, according to the U.N.
"This plan is only for those who comply with Mexican laws, and it's a first step towards a permanent solution for those who are granted refugee status in Mexico," Mexican President Enrique Peña Nieto said in a broadcast Friday, according to the Guardian.
The Mexican government estimated that about 3,500 migrants remain in the caravan, the Guardian reported, and that most are from Honduras.