11 dead, 6 wounded in Pittsburgh synagogue shooting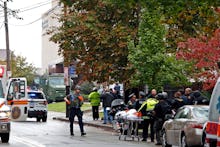 Eleven people were killed and six others wounded in an anti-Semitic shooting at a Pittsburgh synagogue Saturday morning, according to authorities.
The suspect in the Tree of Life Synagogue shooting, who has been identified as Robert Bowers, 46, of Pittsburgh, is in custody.
Wendell Hissrich, the Allegheny County public safety director, said in a press briefing Saturday afternoon that there were six injuries, including non-life threatening injuries to four police officers.
No children were killed or wounded, Hissrich said.
The shooting is being investigated as a hate crime.
"Today, the nightmare has hit home in the city of Pittsburgh," Hissrich said.
According to Pittsburgh CBS' affiliate KDKA, the shooter shouted "all Jews must die" before opening fire. The shooter is believed to have posted anti-Semitic material online, and reportedly wrote "I'm going in" minutes before beginning his attack.
The suspect is being treated for gunshot wounds and is in "fair condition," according to authorities, who noted that he was armed with an assault rifle and three handguns.
Bowers does not appear to have been known to law enforcement before Saturday's attack, an FBI official said Saturday.
"This is the most horrific crime scene I've seen in 22 years with the Federal Bureau of Investigation," Bob Jones, the special agent leading the FBI investigation into the matter, said in a press conference Saturday afternoon.
In an earlier briefing Saturday, a visibly emotional Hissrich also described the scene as "one of the worst I've seen."
"The scene is very bad inside," he said.
Those wounded Saturday included a man in his 70s, a woman in her 60s and four police officers.
Two of those wounded are in "critical condition," according to Don Yealy of the University of Pittsburgh Department of Emergency Medicine. The other four are "seriously injured" but "doing well," Yealy said in a press conference Saturday afternoon.
The shooting was reported to police at 9:54 a.m. Saturday, Hissrich said. Tree of Life had Shabbat services scheduled from 9:45 a.m. to 12:00 p.m., according to the synagogue's website.
Officers were dispatched at 9:55 a.m., according to Hissrich, and engaged in a confrontation with the shooter upon arriving at the scene.
Multiple agencies responded, Hissrich said.
"Without their courage, this tragedy would've been far worse," he said.
Shortly after being informed of the shooting, President Donald Trump told reporters the incident was "far more devastating than anybody originally thought," and suggested that it could have been prevented if an armed security guard had been stationed at the synagogue.
"If they had protection inside, the results would have been far better," Trump said, moments before boarding Air Force One to fly to the Future Farmers of America convention in Indianapolis. "Maybe it would've been a much different situation, but they didn't, and unfortunately he was able to dod things he shouldn't have been able to do."
In remarks about the shooting before a Future Farmers of America event late Saturday afternoon, Trump condemned the attack on the synagogue and the "historic evil of anti-Semitism."
"This wicked act of mass murder is pure evil, hard to believe, and frankly something is unimaginable," Trump said. "Our nation and the world are shocked and stunned by the grief."
Saturday, Oct. 27, 2018 5:25 p.m. Eastern: This article has been updated.