Trump on synagogue shooting: "If they had protection inside, the results would've been far better"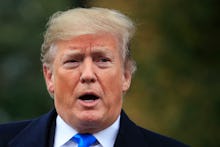 President Donald Trump on Saturday seemed to partially blame the death toll at the Pittsburgh synagogue shooting on the synagogue itself, telling reporters that it "would've been a much different situation" if the Tree of Life had an armed guard inside to protect congregants.
"If they had protection inside, the results would have been far better," Trump said of the Tree of Life Synagogue in Pittsburgh, where a shooter killed at least four Saturday morning. "Maybe it would've been a much different situation, but they didn't [have an armed guard], and unfortunately [the alleged shooter] was able to do things he shouldn't have been able to do."
Trump made the comments in response to a question on gun control laws in light of the shooting as he left Joint Base Andrews in Maryland.
The president claimed that guns have "little to do with it if you take a look at it," and countered that an armed guard could have prevented the mass shooting.
"They might've been able to stop him immediately if there was an armed guard," Trump said. "Maybe there would've been nobody killed except for him, frankly."
A shooter opened fire on the Pittsburgh synagogue during a Shabbat service Saturday morning, shooting at least 12 and killing at least four.
The shooter reportedly shouted "all Jews must die" before opening fire.
Trump tweeted Saturday afternoon that the shooting was "far more devastating than initially thought" and said he would make a longer statement at a Future Farmers of America event later in the day.
Trump spoke to reporters as he left for that event, calling the shooting a "shame" and lamenting that "something has to be done" about "what's going on" in the United States and around the world.
"The world has violence," Trump said. "The world is a violent world."
When asked what should be done to address the violence, Trump called for an emphasis on the death penalty.
"They should very much bring the death penalty into vogue," Trump said.
While he called for the U.S. to "stiffen up" the death penalty, he repeatedly declined to lay any blame for the latest mass shooting in America on guns. Instead, he suggested multiple times that the synagogue should have had "somebody to protect people" there.
But when a reporter asked him if he believed that all public places of worship should have armed guards, he declined to say.
"I hate to think of it that way," he said.