In July, rabbi of Pittsburgh Tree of Life synagogue called for gun control: "Where are our leaders?"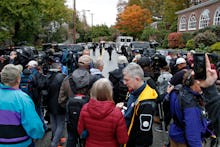 Just months before his synagogue was targeted in what authorities say was an anti-Semitic mass shooting Saturday, the rabbi at the Tree of Life Synagogue in Pittsburgh made an impassioned call for gun control.
"There must be a better system, and I would have hoped that bright minds in Washington, D.C., could sit down and work out a solution that takes into account all of the concerns that have been raised," Rabbi Jeffrey Myers wrote in a July blog post on the Tree of Life website. "Alas, inaction once again."
In the July 19 post, Myers lamented that the Parkland, Florida, school shooting in February had faded from the headlines and that the status quo has remained "unchanged" in its wake.
"I shouldn't have to include in my daily morning prayers that God should watch over my wife and daughter, both teachers, and keep them safe," Myers wrote. "Where are our leaders?"
Now, just over three months later, Myers' own synagogue has become the site of the latest high-profile American mass shooting.
Robert Bowers, 46, allegedly opened fire on the Pittsburgh synagogue during Shabbat services Saturday, killing eleven and wounding several others.
He was armed with an assault weapon and three handguns, officials said Saturday.
On social media, Bowers had reportedly posted photos of his gun collection, which he described as his "glock family."
The shooting has already spurred a renewed focus on gun laws in the United States, which has a far higher rate of gun violence than other high income countries.
But President Donald Trump has already indicated that gun control will be a non-starter under his administration.
When asked about gun reform en route to an event Saturday afternoon, Trump told reporters that gun laws have "little to do with it if you take a look at it" and suggested that the synagogue should have had an armed guard present to protect its members.
"If they had protection inside, the results would have been far better," Trump said. "Maybe it would've been a much different situation, but they didn't [have an armed guard], and unfortunately [the alleged shooter] was able to do things he shouldn't have been able to do."
He also indicated Saturday that the events are "far more devastating than originally thought."
Authorities, who are investigating the incident as a hate crime, have described the scene of the mass shooting as horrific.
"The scene is very bad inside," Wendell Hissrich, the Pittsburgh public safety director, said in a press briefing Saturday. "It's one of the worst I've seen."
This is just the latest mass shooting since Trump took office, and just the latest to occur at a place of worship. Each has led to renewed scrutiny of America's gun culture, with victims of the Marjory Stoneman Douglas High School shooting leading a prominent push for common sense gun control.
But, as Myers wrote in July, those pushes have largely failed to lead to legislation in Washington. In his post, which also called out the administration over its controversial family separation immigration policy, he urged Americans to hold lawmakers accountable in the upcoming midterm elections.
"We deserve better," he wrote.
Oct. 27, 2018, 5:10 p.m. Eastern: This story has been updated.