"We are devastated": Jewish leaders condemn anti-Semitic attack on Pittsburgh synagogue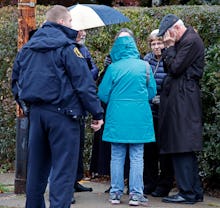 Jewish leaders on Saturday condemned the attack on a Pittsburgh synagogue, calling the deadly mass shooting "unconscionable" and expressing sympathy to victims.
"We are devastated," Jonathan Greenblatt, CEO of the Anti-Defamation League, tweeted Saturday afternoon. "Jews targeted on Shabbat morning at synagogue, a holy place of worship, is unconscionable."
"Our hearts break for the victims, their families and the entire Jewish community," Greenblatt continued, adding that the organization is "actively engaged with law enforcement to understand the extent of this anti-Semitic attack and we will work together with communities across the country to push back on prejudice wherever it appears."
A shooter on Saturday morning opened fire inside the Tree of Life Synagogue in Pittsburgh's Squirrel Hill neighborhood, a prominent Jewish community in the city.
Eleven were killed and several others were wounded in the massacre.
Robert Bowers, 46, of Pittsburgh, has been identified as the alleged shooter.
The suspect has reportedly extensively posted anti-Semitic content online, and is believed to have shouted "all Jews must die" before opening fire.
The incident is being investigated as a hate crime, authorities said Saturday.
"My heart goes out to all these families," Jeff Finkelstein, president of the Jewish Federation of Greater Pittsburgh, told the media. "This should not be happening, period. It should not be happening in a synagogue, it should not be happening in our neighborhood in Squirrel Hill."
Israel President Benjamin Netanyahu also condemned the attack Saturday, tweeting in Hebrew that Israel "grieves with the families of the dead."
"I am heartbroken and shocked by the murderous attack today at a synagogue in Pittsburgh," Netanyahu said in a statement. "We stand together with the Jewish community of Pittsburgh, we stand together with the American people in the face of this horrifying anti-Semitic brutality."
President Donald Trump forcefully condemned anti-Semitism in remarks before a Future Farmers of America event Saturday afternoon, calling the shooting "pure evil."
"You wouldn't think this would be possible in this day and age, but we just don't seem to learn from the past," Trump said. "We condemn the historic evil of anti-Semitism and every other form of evil."
Other members of the Trump administration also expressed condolences to victims of the attack. Vice President Mike Pence said the shooting was an "assault on our Freedom of Religion." First daughter Ivanka Trump, who converted to Judaism, called the shooter a "depraved bigot and anti-semite" and tweeted that "all good Americans stand with the Jewish people to oppose acts of terror." White House press secretary Sarah Huckabee Sanders tweeted that the administration stands "in total solidarity with the victims and all of the Jewish community against bigotry and hate."
The shooting began around 10:00 a.m. on Saturday, around the time the synagogue's Shabbat service was beginning.
Bowers had a history of posting anti-Semitic material online. He reportedly posted just minutes before beginning his attack, writing on Gab that he "can't sit by and watch my people get slaughtered."
"I'm going in," he reportedly wrote.
Oct. 27, 2018, 5:06 p.m. Eastern: This story has been updated.