This Week in Trump-Russia News: Behind the scenes, the Mueller probe presses on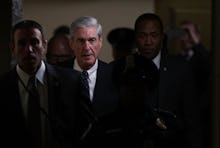 It's been a quiet couple weeks in the Russia probe as the November midterms draw near.
But special counsel Robert Mueller, who is expected to deliver key findings in the Russia inquiry after the elections, has continued working behind the scenes — including examining new threads related to Roger Stone.
Here's what Mueller's found out about the notorious Republican operative — and other new developments in the ongoing Russia saga.
Stone associate knew about stolen Clinton emails
Mueller has uncovered evidence that Jerome Corsi, a conspiracy theorist with ties to Stone, had prior knowledge of the Hillary Clinton emails that were released by WikiLeaks in 2016, NBC News reported this week.
Mueller is now investigating whether Corsi informed Stone about the stolen emails, according to the report.
The report is just the latest indication that Stone, a former unofficial adviser to President Donald Trump, may be vulnerable in the Mueller probe.
Stone has seemed to be under Mueller's magnifying glass since last summer, when the special counsel alluded to the Trump confidante in an indictment of 12 Russian intelligence operatives who had participated in the Kremlin's interference in the 2016 United States election.
He had communicated with Guccifer 2.0, the fictitious online entity through which through which documents stolen from the Clinton campaign and Democratic Party were disseminated in 2016. He had also apparently claimed at one point to have been briefed by WikiLeaks' Julian Assange on the documents before they were released to the public.
Stone has acknowledged that he is "probably" the unnamed person referenced in the July indictment who had been in contact with both the Russians and top Trump campaign officials.
It was reported in August that at least nine associates of Stone had been contacted by Mueller's team.
He has maintained that there are "no circumstances" in which he'd turn on Trump.
U.S. looks to protect elections from cyberattacks
The U.S. Cyber Command has launched a cyber operation to prevent Russian attempts to interfere in American elections, the New York Times reported on Tuesday.
The U.S. is "targeting individual Russian operatives to try to deter them from spreading disinformation to interfere in elections, telling them that American operatives have identified them and are tracking their work," according to the Times.
Cyber Command is seeking to protect both the upcoming midterms, as well as future elections.
The effort to secure the American election system comes as Trump faces continuing criticism for his attempts to cast public doubt both on Russia's 2016 meddling and its ongoing interference campaign.
Trump has repeatedly suggested he accepts Russian President Vladimir Putin's denials of election interference and in July suggested to reporters that he doesn't believe Moscow currently represents a threat to the U.S.
"Mr. President, is Russia still targeting the U.S.?" a reporter asked him in July, shortly after his disastrous Helsinki summit with Putin. "Is Russia still targeting the U.S., Mr. President?"
"Thank you very much. No," Trump said.
"No, you don't believe that to be the case?"
"No," the president said again.
Papadopoulos suggests he could nix plea deal
George Papadopoulos, the former Trump campaign adviser whose drunken comments to an Australian diplomat triggered the Russia probe, said this week that he is considering withdrawing his guilty plea.
"I was framed," Papadopoulos said in an interview with Fox News on Friday.
The former campaign foreign policy adviser pleaded guilty in October 2017 to making false statements to investigators about his contacts with Russia.
He was the first person known to have been charged in the Mueller probe.
At the time, Trump and the White House distanced from Papadopoulos, with the president dismissing him as a "young, low level volunteer named George."
But Papadopoulos was more involved in the president's campaign than the administration has let on, and in a court filing in August claimed that Trump and now-Attorney General Jeff Sessions approved of his outreach to Moscow.
He was sentenced to 14 days in prison in September.
But now he's claiming that he was a victim of unspecific government "misconduct" and threatening to withdraw from his plea agreement.
"Given certain information I learned just yesterday that I can't publicly disclose right now, I'm actually even considering withdrawing my agreement I have come to with the government," he told Fox News.
Russia and China listening in Trump's calls
Meanwhile, Trump has defied aides in continuing to use his private cell phones to call his outside advisers — despite the fact that China and Russia are reportedly listening in on those calls.
According to the Times on Thursday, Trump continues to use iPhones that are not secured to talk with Fox News hosts and other outside confidantes. Those calls are eavesdropped on by Chinese and Russian spies, officials told the Times.
The report renewed concerns about Trump's handling of classified information, and left him open to charges of hypocrisy over Republicans' repeated criticism during the 2016 campaign of Clinton's use of a private email server.
"They didn't care about emails," former President Barack Obama said at a campaign event Friday. "And you know how you know? Because if they did, they'd be up in arms right now as the Chinese are listening to the president's iPhone that he leaves in his golf cart."
Obama took another shot at Trump during the rally over the numerous members of his inner circle who have been brought down by FBI probes since he took office.
"They promised to take on corruption. Remember that?" Obama said at the Milwaukee event. "They have gone to Washington and just plundered away. In Washington, they have racked up enough indictments to field a football team."
"Nobody in my administration got indicted," he said.