Hate crime charges filed against suspect in Pittsburgh synagogue shooting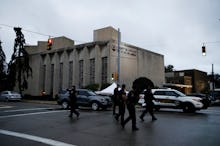 Federal authorities announced Sunday that Robert Bowers faces 29 charges after Saturday's mass shooting at a synagogue in the Squirrel Hill neighborhood of Pittsburgh that killed 11 people.
The charges include 11 counts of using a firearm to commit murder, 11 counts of obstruction of the exercise of religious beliefs resulting in death and seven counts of obstruction of the exercise of religious beliefs resulting in bodily injury to a public safety officer.
If convicted, Bowers, 46, could face the death penalty for several of the charges. He is being held in federal custody.
The shooting is being treated as a hate crime, U.S. Attorney Scott Brady said in a press briefing Sunday. Court documents released Sunday described Bowers making statements that expressed animosity against people of Jewish faith both during and after the shooting, telling one law enforcement officer, "They're committing genocide to my people. I just want to kill Jews." Bowers also previously appeared to have made multiple anti-Semitic comments on social media sites, the Pittsburgh Post-Gazette reported.
According to the Anti-Defamation League, Saturday's shooting is believed to be the deadliest attack on the Jewish community in U.S. history.
"We are living in a moment where anti-Semitism is almost becoming normalized, and that should shock and move all of us to act," ADL CEO Jonathan Greenblatt said Sunday on Meet the Press, tying the Pittsburgh tragedy to a recent rise in anti-Semitic incidents across the country.
The shooting took place at the Tree of Life synagogue, where Bowers likely moved throughout the building to commit attacks on three different Jewish congregations that met in the building, authorities said Sunday. Officials believe that Bowers did not have any accomplices and that he used multiple firearms in the shooting.
"[The Jewish community] is part of the fabric of Pittsburgh, and we will be there in all communities to support our friends in the Jewish community," Pittsburgh Mayor Bill Peduto said at Sunday's press briefing. Thousands of Pittsburgh-area residents gathered Saturday night for a vigil paying tribute to the victims.
"We know that we as a society are better than this," Peduto added. "We know that hatred will never win out, that those that try to divide us because of the way we pray and where our families are from around the world will lose, and in Pittsburgh, we're pragmatic and we find solutions to problems. We will not try to rationalize irrational behavior, we will not try to figure out ways in order to lessen the degree of crimes such as this. We will work to eradicate it.
"Hatred will not have a place anywhere, and we will work locally to make those changes happen, and we will work with partners around this country and around this world to make sure that it ends."
Victims' information released
Authorities also released the names of the 11 people who died in Saturday's shooting.
• Richard Gottfried, 65, of Ross Township
• Rose Mallinger, 97, of Squirrel Hill, city of Pittsburgh
• Jerry Rabinowitz, 66, of Edgewood Borough
• Cecil Rosenthal, 59, of Squirrel Hill, city of Pittsburgh
• David Rosenthal, 54, of Squirrel Hill. David and Cecil Rosenthal were brothers.
• Bernice Simon, 84, of Wilkinsburg
• Sylvan Simon, 86, of Wilkinsburg. Sylvan and Bernice Simon were married.
• Daniel Stein, 71, of Squirrel Hill, city of Pittsburgh
• Melvin Wax, 88, of Squirrel Hill, city of Pittsburgh
• Irving Younger, 69, of Mt. Washington, city of Pittsburgh
Two additional members of the congregation were injured in the shooting. Four police officers were also injured, three of whom were shot by Bowers, officials said Sunday.