Kirstjen Nielsen says Trump admin will consider "every possible action" to keep out migrant caravan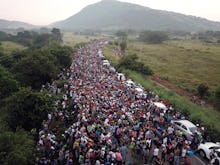 The Trump administration continued its attacks on the caravan of migrants marching from Central America to the U.S. border to seek asylum Sunday, as Secretary of Homeland Security Kirstjen Nielsen said the administration would consider "every possible action" to keep the migrants from entering the United States.
"This caravan is not getting in," Nielsen said on Fox News Sunday. "There is a legal way to enter this country. Those who enter illegally will be stopped."
The caravan, which originated in Honduras on Oct. 12 and is in southern Mexico, is made up of migrants, primarily from Honduras, who are fleeing violence and economic hardship in their home countries. Though Nielsen has condemned the migrants for attempting to enter the country "illegally," they are reportedly planning to ask for asylum at the border, which is legal under U.S. immigration law. According to the United Nations, nearly 2,000 of the migrants have already requested asylum in Mexico, with an additional 3,500 still moving forward to the United States.
"All of us come fleeing from violence and the lack of employment that the current government has for us," Denis Omar Contreras, a Honduran immigrant and volunteer organizer, previously told Mic from Tecun Uman, Guatemala. "We are people who got tired of the current government that we can't stand anymore. And the best option for mothers, families and us men is to arrive at the border with the United States and ask for political refuge."
President Donald Trump has made the caravan a frequent talking point in the lead-up to the Nov. 6 midterm elections, including falsely claiming that the caravan has ties to the Democratic Party and includes criminals and Middle Eastern migrants — a claim for which he later said he had "no proof."
The Trump administration has already warned of efforts to keep the migrants from entering the United States, including deploying military troops to the border. According to media reports, the administration is also planning an executive action that would bar Central American migrants from seeking asylum at the border using the same legal basis as Trump's controversial "travel ban." Civil rights and immigration groups have already condemned the planned executive action as a "Latino ban" and threatened legal action if it comes to pass.
Nielsen did not deny that the executive order could be coming when asked about the potential move Sunday, instead promising action against the caravan and the broader "crisis at the border."
"I think what the president is making clear is every possible action, authority, executive action is on the table to ensure that it is clear that there is a right and legal way to come to this country and no other ways will be tolerated," Nielsen said Sunday.
"My general message to this caravan is do not come. You will not be allowed in. There is a right way to emigrate to the United States, and this is not it."