North Carolina woman fired after video of her harassing two black sisters goes viral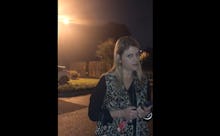 A woman in Charlotte, North Carolina, has reportedly been fired after a viral video of the woman harassing two sisters, who are black, in the parking lot of an apartment residence went viral.
The woman, who has been identified only as "Ms. Westwood," approached sisters Leisa and Mary Garris on Friday as they were waiting outside their apartment for AAA, WSOC reported. In the video, Westwood is shown asking the two sisters why they are hanging out at the apartment complex, citing how much she pays in rent for her apartment and repeatedly saying, "I'm white."
"Do you live here? Why do we feel that we need to be here like hanging out? Let's call 911. I want to make sure there's nothing going on here," Westwood said. The sisters repeatedly told Westwood to stop harassing them and leave them alone, which she is shown refusing to do.
"Do I need to bring my concealed weapons too?" Westwood says at another point. "This is North Carolina by the way." 
In a statement quoted by WSOC, the sisters said they were "so distraught and still very upset about what has taken place only because of the color of our skin."
"It is so upsetting to know that today we still have this overt racism going on in 2018," Leisa and Mary Garris said.
According to WSOC, Westwood worked for the company Charter Communications, who said in a statement that it terminated her employment after viewing the video.
"The incident recorded in Charlotte is a blatant violation of Charter's code of conduct and clearly disregards the company's commitment to inclusion and respectful behavior," Patrick Paterno, director of public relations for the company's Carolina region, said in a statement. "As such, Ms. Westwood's employment with the company has been terminated, effective immediately."
The Garris sisters are reportedly pursuing legal action for the harassment. Charlotte-Mecklenburg police told WSOC it has issued, but not yet served, four criminal summons for Westwood, which include two counts of communicating threats and two counts of simple assault.