This Week in Politics: Trump goes on last-minute rally blitz as midterm campaigns enter final days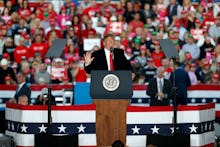 The November midterm elections will enter their final push this week as Election Day nears on Nov. 6, even as the nation is marred by tragedy from the recent mass shooting at a synogogue in Pittsburgh, Pennsylvania.
Though Trump's divisive rhetoric has been criticized for having contributed to the climate that produced the Pittsburgh shooting and a string of mail bombs sent to Democratic leaders and CNN, he will nonetheless head back out on the campaign trail this week for an eight-state rally blitz ahead of the midterm elections.
Candidates across the country will also be making their final appeals to voters this week, as high-stakes races remain separated in the polls by razor-thin margins.
Here's what to expect from the political world in the week ahead.
Trump's agenda: The president will end the midterm campaign season with a string of visits to eight states between Wednesday and Election Day, Reuters reported. His team has so far confirmed that rallies will take place in Fort Myers, Florida, on Wednesday; Columbia, Missouri, on Thursday; and Huntington, West Virginia, on Friday. He'll also reportedly make stops in Indiana, Montana, Ohio, Georgia and Tennessee.
Trump has also said he plans to visit the Tree of Life synagogue in Pittsburgh, where 11 people were killed Saturday, though he has not yet offered specifics of his visit.
Midterm elections: The midterm election is now entering its final days, with a just over a week to go before hundreds of races capable of shaping both national and local politics are decided.
Voters across the country will cast their ballots this week through early voting and absentee ballots. Many critical races are closely divided; a CBS News poll released Sunday showed the Florida Senate race between incumbent Sen. Bill Nelson and Gov. Rick Scott split at 46% in favor of each candidate, and razor-thin margins remain in such other races as the Florida gubernatorial race between Andrew Gillum and Ron DeSantis and some red states where Democratic senators are running for reelection, such as West Virginia and Indiana.
One red state Democrat behind in the polls, North Dakota Sen. Heidi Heitkamp, will get some help this week from former Vice President Joe Biden, who is expected to campaign for her on a five-day statewide tour. Biden will also head to Wisconsin for a rally encouraging early voting.
The midterms' final days are also likely to continue to include discussions of voter suppression and errors. Reports have surfaced out of Texas that some voting machines are inadvertently switching votes to the opposing party's candidates, which comes during a high-stakes Senate race between Sen. Ted Cruz and Rep. Beto O'Rourke. Legal challenges are continuing to play out concerning allegations of voter suppression in Georgia, where Stacey Abrams is taking on Georgia Secretary of State Brian Kemp to become the country's first black woman governor.
Migrant caravan: This week could bring a fresh immigration controversy from the Trump administration, as Trump is expected to issue an executive order targeting the caravan of migrants from Central America currently heading through Mexico to the U.S. border. The potential executive order, which sources cited by the New York Times said could come on Tuesday, would reportedly bar migrants from Central America from seeking asylum at the border.
Secretary of Homeland Security Kirstjen Nielsen did not deny the potential executive order in an interview on Fox News Sunday, saying that the president was considering "every possible action" to keep the migrants, who are fleeing violence and economic hardship, from entering the country.
As the current migrant caravan continues to garner controversy, more are following in their footsteps: According to CNN, another caravan is scheduled to set off from El Salvador at 9 a.m. Wednesday.
U.S. Supreme Court: The Supreme Court will hear new cases this week, with hearings scheduled on such topics as criminal justice, employer arbitration, Native American rights and immunity for international organizations.
Climate change advocates will also be watching the court this week for a decision on the fate of the youth climate change lawsuit, in which young Americans are attempting to hold the federal government responsible for exacerbating climate change. The court granted a request by the Trump administration by temporarily pausing the case on Oct. 19, and has not yet issued a verdict on whether or not the case can ultimately move forward. The trial was initially slated to begin Monday, and the San Francisco Chronicle reported that rallies will take place across the country Monday in support of the legal challenge.