Alexandria Ocasio-Cortez just became the youngest woman ever elected to Congress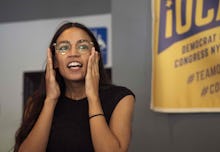 Alexandria Ocasio-Cortez will become the youngest women ever to serve in Congress after handily winning the race to represent New York's 14th Congressional District.
Ocasio-Cortez, 29, had been all but guaranteed victory in deep-blue New York after pulling off a stunning primary upset over political veteran Joseph Crowley, a 10-term incumbent, in June.
According to the Associated Press, Ocasio-Cortez defeated Republican rival Anthony Pappas 76.8% to 14.8%, with 59% of precincts reporting.
Even in dependably left-leaning New York, Ocasio-Cortez's unapologetically progressive platform sent shockwaves throughout the Democratic machine. A self-avowed democratic socialist who came equipped with an endorsement from 2016 presidential candidate Sen. Bernie Sanders (I-Vt.), Ocasio-Cortez surged to national prominence in the months since her primary win for neatly encapsulating a new, energized segment of the Democratic Party.
Ocasio-Cortez — a former bartender and political newcomer — famously wore holes into the soles of her shoes while canvassing in the New York district she sought to represent, which spans the Bronx, Queens and Rikers Island. She endorsed both single-payer health care and immigration reform during her campaign, and has openly spoken about the need to abolish the Immigration and Customs Enforcement agency.
At an after-party following her primary win in June, Ocasio-Cortez said her campaign represented a beacon of hope for everyday Americans who felt disillusioned by the politics of Washington, D.C.
"This is the beginning," Ocasio-Cortez told a room packed with supporters, campaign volunteers and journalists. "This is the beginning because the message that we send the world tonight is that it's not OK to put donors before your community. The message that we sent tonight is that improved and expanded 'Medicare-for-all,' health care for every single person in America, is what we deserve is a nation."
"What we proved tonight is sometimes in the deep midnight and darkness that it feels in our political environment, that there is still hope for this nation."