Hype Daily: Demi Lovato's mom gave an update on her health and more entertainment news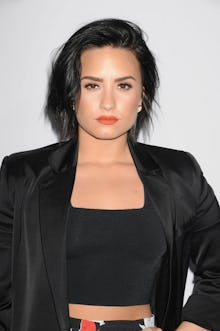 Good morning Hype Daily readers, and welcome back to another week. Before we begin, let me just take a moment to say we're thinking of everyone affected by the deadly synagogue shooting in Pittsburgh on Saturday. Hold your loved ones close, people.
And now, on to the day's entertainment news.
Demi Lovato's mom offered an update on her daughter's progress
Singer Demi Lovato has now been sober for several months, according to her mom, Dianna De La Garza. "She has 90 days," De La Garza said Friday in an interview with Maria Menounos on Sirius XM, according to the Hollywood Reporter. "I couldn't be more thankful or more proud of her because addiction being a disease, it's work. It's very hard. It's not easy, and there are no shortcuts."
Back in July, Lovato was hospitalized after an overdose, prompting an outpouring of support from fans and fellow celebs. Speaking on Menounos' show on Friday, De La Garza described the moment she found out her daughter was in the hospital.
"The one text message that clued me in on what was going on said, 'I just saw on TMZ and I'm so sorry,'" she said. "Before I could get to TMZ, I got the phone call from her assistant and she said, 'We're at the hospital.' So then I knew, OK, she's not gone. She's here. And I said, 'What's going on?' And the words that I heard are just a nightmare for any parent: 'Demi overdosed.'"
Poet and author Ntozake Shange died at age 70
Poet and author Ntozake Shange, whose work includes the play For Colored Girls Who Have Considered Suicide/When the Rainbow Is Enuf, died Saturday at an assisted living facility in Bowie, Maryland, her daughter Savannah Shange announced, according to the Associated Press.
For Colored Girls, which was nominated for a Tony Award in 1975, told the stories of seven black women and the violence and oppression they experienced. The play was hugely influential and was adapted into a film. In a statement about her mother's death, Savannah Shange said, "She spoke for, and in fact embodied, the ongoing struggle of black women and girls to live with dignity and respect in the context of systemic racism, sexism and oppression."
Will Ferrell canvassed for Georgia's Stacey Abrams
Actor Will Ferrell was pounding the pavement last week, going door to door canvassing for Georgia Democratic gubernatorial candidate Stacey Abrams in the upcoming midterm elections on Nov. 6, HuffPost reported. Ferrell and his wife, Viveca Paulin-Ferrell, were in Georgia stumping for Abrams and other Democratic candidates — and Ferrell even took some time to hand out Abrams stickers on campus at Kennesaw State University.
In a video of Ferrell posted to Abrams' campaign Facebook page, he can be heard telling Kennesaw students, "We're gonna win by knocking on doors ... All the doors," according to HuffPost.
Your weekend box office roundup
The horror reboot Halloween continued to dominate the box office this weekend. In fact, all four of this weekend's top grossing films were the same as last weekend's, according to the Associated Press. Halloween, which took the top slot, earned an estimated $32 million in the U.S. and Canada this weekend. A Star Is Born, which took the second slot, earned another $14.1 million, followed up by Venom, which earned another $10.8 million. And Goosebumps 2 rounded out the top four with another $7.5 million,
Put this on your radar: Patriot Act
Patriot Act, a new weekly satirical news show from Daily Show alum Hasan Minhaj, premiered Sunday on Netflix. The show represents yet another gamble in weekly talk shows for Netflix, which has canceled other similar attempts, including Chelsea, hosted by Chelsea Handler, and The Break With Michelle Wolf. In the show's first episode, Minhaj tackled the topic of affirmative action – check out the segment here.
This has been Hype Daily, Mic's morning entertainment roundup. It's everything you need to catch up on in the entertainment world and what to look forward to today. Want to receive this as a daily email in your inbox? Subscribe here.