Fashion photographer pays homage to one of Alexander McQueen's most iconic creations on Halloween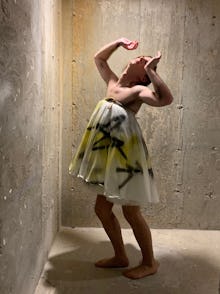 Fashion photographer Simons Finnerty never dresses up for Halloween. But after seeing the recent documentary centered on the late designer Alexander McQueen, he decided to interpret one of his favorite McQueen designs for Halloween.
Finnerty's love of McQueen began in 2011, the way it has for many, during a trip to McQueen's Savage Beauty exhibition at the Metropolitan Museum of Art.
"I was familiar with McQueen before, but seeing this exhibit in person was deeply visceral for me," Finnerty said in an interview. "Before then, I was interested in fashion from a photography point of view, but Savage Beauty was the first time I felt an emotional collection to clothing, which continues till this day. 
Among the pieces shown at the career retrospective was one of McQueen's more revered pieces of art, a look from the designer's spring 1999 show, No. 13. The piece made its debut at the Gatliff Road warehouse in London during the finale of McQueen's runway show, beginning as a white strapless dress with a tulle underlay.
Two robots surrounded model Shalom Harlow who stood on a revolving wooden platform. At first slowly and then increasingly with menace, the robots began spraying her with black and yellow paint, at first glance ruining her dress and in the end creating something more spectacular.
"I love the simplistic elegance of the dress and the drama of the robots spraying her," Finnerty said. "McQueen was ahead of his time in so many ways, and I think this show finale is a great example of his approach at representing humanity's interaction with technology, and the iron-fisted power that technology has on us. It's crazy that this happened in the fall of 1998."
And so, 20 years later, with the help of his designer friend Vivyan Zhang, Finnerty decided to recreate the dress, including documenting how the dress came to be.
The hardest part it turns out wasn't the painting of the dress but rather the hair. "I'm not sure if Shalom is wearing a light net over her head, but I was not able to get my hair to stick to my face like hers," Finnerty said.
Regardless, the intricacy and commitment to such a niche pop culture moment, and fundamental moment to fashion iconography, is worth celebrating.