Trump once again calls the media the "enemy" after synagogue shooting, serial bombing attempts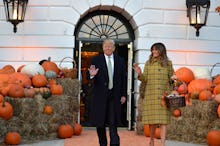 President Donald Trump blamed the "anger" in the United States on the media, calling the press the "true enemy of the people" in a series of Monday morning tweets.
"There is great anger in our Country caused in part by inaccurate, and even fraudulent, reporting of the news," Trump tweeted. "The Fake News Media, the true Enemy of the People, must stop the open & obvious hostility & report the news accurately & fairly. That will do much to put out the flame of Anger and Outrage and we will then be able to bring all sides together in Peace and Harmony. Fake News Must End!"
His comments come after a super Trump fan mailed more than a dozen pipe bombs to people whom Trump has verbally attacked over the years, as well as to CNN — which had to be evacuated last week after a pipe bomb was discovered inside the organization's New York City headquarters.
The comments also come after a man in Pittsburgh killed 11 people and injured several more in a mass shooting at a synagogue — a crime police say was driven by the alleged shooter's hatred for Jews and migrants.
Both the alleged shooter and alleged mail bomber trafficked in right-wing ideology and conspiracy theories mainstreamed by Trump.
Trump, however, has eschewed any responsibility for his rhetoric and how it might have impacted both incidents. Instead, Trump has chosen to continue his attacks on the media.
It continues the circular pattern of critics condemning Trump's incitement of anger toward the media and other figures, which will only make Trump double down more on those attacks.