Michael Moore says he caught bomb suspect Cesar Sayoc on camera at a 2017 Trump rally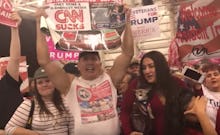 In an Instagram post on Sunday, filmmaker and activist Michael Moore said he and his crew caught serial bomb suspect Cesar Sayoc on camera in 2017 at a rally for a then-newly inaugurated President Donald Trump in Melbourne, Florida. The footage was shot for Moore's latest documentary Fahrenheit 11/9, which came out in September, but the clip didn't make it into the final cut of the film, Moore said in his Instagram caption.
On Friday, Sayoc, a Florida resident working most recently as a strip-club DJ, was arrested, suspected of mailing pipe bombs to prominent Democratic politicians and donors, including former President Barack Obama, former Secretary of State Hillary Clinton and philanthropist George Soros.
"Our footage of Mr. Sayoc would never make it into the final cut of what would be the film that is now in its last week in cinemas across America," Moore wrote on Instagram. "But I'd like to share it with you, if only to give you a momentary glimpse of him in action (all are free to use this video and share it). You've seen the photos of him on the news over the past couple days — a slight, normal, everyday American. But those are from before. Here with our footage I can show you what he had actually become — overdosed on steroids in what looks like some desperate attempt to hang on to what was left of his manhood."
Moore uploaded the footage to YouTube. It shows a man who appears to be Sayoc standing among a crowd of Trump supporters chanting, "CNN sucks." He appears to be holding a "CNN sucks" sign, with the words "Fake news & dishonest media" on it.
"Fake news," of course, is a phrase popularized by Trump. And CNN, the target of the chanting in the video, was also one of the targets of the aforementioned mail bombs. On Wednesday, CNN's offices at the Time Warner Center in New York were evacuated after a bomb was found in the building's mailroom.
The man in the video who appears to be Sayoc was also wearing a tank top with a photo of Trump and what seems to be the words, "My president ... no path to 270 landslide ... it was a 306 tsunami."
Sayoc is scheduled to appear in court in Miami on Monday, NPR reported, after which he will likely be sent to New York.