Suspicious package addressed to CNN intercepted in Atlanta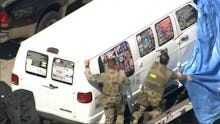 A suspicious package sent to CNN's Atlanta's bureau was intercepted on Monday, CNN President Jeff Zucker said in a statement, a sign that the threat of attempted mail bombs is not yet over despite the arrest of a suspect on Friday.
Zucker said that all mail addressed to CNN's domestic bureaus is being screened off site before it makes its way to CNN offices, and that there is "no imminent danger."
"Our screening process is working and we will keep you updated as we learn more," Zucker said.
The Justice Department officials announced that a suspect in the attempted bombings, Cesar Sayoc Jr., was arrested on Friday and charged with sending improvised explosive devices through the mail. But the officials warned that there might be more packages in the postal system, and told the public to remain vigilant.
Sayoc is a super Trump fan, and the targets of the IEDs were all people or media organizations whom Trump has verbally attacked. CNN specifically had an IED enter its New York headquarters on Wednesday, causing an evacuation. Another package addressed to CNN was intercepted at a Manhattan postal facility.
Trump, for his part, has taken no responsibility for his rhetoric.
Instead, he continued his assault on the press on Monday, calling the media the "true enemy of the people."