Jimmy Carter calls on Georgia Republican Brian Kemp to resign as Secretary of State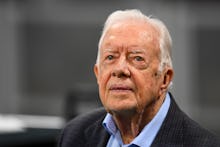 Former President Jimmy Carter is adding his voice to the growing chorus calling upon Georgia's outgoing secretary of state, Brian Kemp, to step down over allegations that he's led a widespread campaign of voter suppression in the state.
In an Oct. 22 letter obtained by the Associated Press, Carter reportedly advised Kemp, who is also currently the Republican candidate in Georgia's contentious gubernatorial race, to abdicate his position in order to restore public faith in the integrity of Georgia's elections.
"One of the key requirements for a fair and trusted process is that there be a nonbiased supervision of the electoral process," Carter wrote, adding that for Kemp to step down "would be a sign that you recognize the importance of this key democratic principle and want to ensure the confidence of our citizens in the outcome."
Although it was not immediately clear if Kemp had read the letter or planned to respond, he has been steady thus far in his dismissal of calls for him to resign — including those leveled by his Democrat opponent, Stacey Abrams.
The outcry largely stems from a separate AP report which found that Kemp's office has 53,000 applications to vote sitting on hold ahead of the November midterms. The registrations were largely flagged as a result of the state's "exact match" verification program — which Kemp served as the chief architect of, and which targets voters whose names on their voter applications differ from their name as it's listed for other government agencies.
In response to the release of the report, Abrams' campaign spokeswoman Abigail Collazo told CNN in a statement that Kemp "is maliciously wielding the power of his office to suppress the vote for political gain and silence the voices of thousands of eligible voters — the majority of them people of color," Abrams
Kemp, meanwhile, has countered that Abrams and the New Georgia Project — the organization she founded in the interest of registering new voters — have submitted shoddy paperwork in their zeal to process as many new registration applications as possible.