Queen biopic 'Bohemian Rhapsody' had a troubled production. Here's a timeline tracking the drama.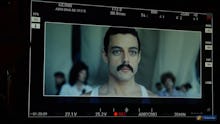 Bohemian Rhapsody finally hits theaters on Friday, and it's the culmination of an eight-year journey to get the Queen biopic off the ground and onto the big screen.
The film — which stars Rami Malek as Queen's late frontman, Freddie Mercury — focuses on the band's formation and rise to prominence, Mercury's AIDS diagnosis and Queen's iconic performance at the 1985 Live Aid concert.
The movie has been getting some mediocre reviews — the Guardian said Bohemian Rhapsody "will not rock you," but the AV Club praised the film's handling of Queen's creative process. Far more interesting than its critical reception, however, is the movie's long, dramatic journey to its premiere date. Let's take a look at the on-set drama and many hiccups that Bohemian Rhapsody encountered on its way to a theater near you.
A slow start, 2008 to 2011
All the way back in 2010, Queen guitarist Brian May told the BBC that a movie about the band was in the works, with comedian Sacha Baron Cohen slated to play Freddie Mercury. "We have Sacha Baron Cohen, which will probably be a shock to a lot of people, but he's been talking with us for a long time," May said, adding that Cohen had been "on this project since we started talking about it seriously with Peter Morgan a couple of years ago." That is, Peter Morgan, the Frost/Nixon writer who had originally been on tap to write the Queen flick's screenplay.
Then in 2011, May told the U.K.'s Daily Record that plans for the film were still moving ahead, with Cohen still on for the title role, but that there had been some reluctance on behalf of the surviving members of the band.
"We have resisted making this film for a long time and it is only now we feel we have the right people that we have given it the OK," May said. "Sacha does seem perfect. If it hadn't been for Sacha pushing and pushing, we wouldn't be at this point. We didn't choose him. He chose us."
Cohen's exit, 2013
But apparently Cohen wasn't perfect enough for the role — news broke in July 2013 that Cohen was leaving the project over "creative differences," as Deadline reported. According to Deadline, "the band wanted to make more of a PG movie about Queen while Cohen was counting on a gritty R-rated tell-all."
Years later, in a 2016 radio interview with Howard Stern, Cohen spoke about some of the differences behind his split from the project. He said that an unnamed member of the band wanted Mercury's death to be the halfway point of the film, after which the movie would be about the remaining members of Queen moving on without him. "I said, 'Listen, not one person is going to see a movie where the lead character dies from AIDS and then you carry on to see [what happens to the band],'" Cohen told Stern, according to IndieWire. He also said that the band wanted to omit some of the wilder stories about Mercury's life — and that they rejected the talent he brought in.
"They asked me to write the movie, but I said, 'I don't know how to write a biopic,'" Cohen said. "So I got in Peter Morgan, [but] they didn't like that. I brought in David Fincher who wanted to direct it, then Tom Hooper — they were very specific about how they wanted to do it. But at the end of the day, it really was an artistic difference." 
More upheaval and a new star, 2013 to 2016
There were a bunch dramatic personnel changes after Cohen's departure from the project in 2013. In December of that year, the BBC reported that actor Ben Whishaw had signed on to play Freddie Mercury, and Dexter Fletcher would direct. But Fletcher departed in March 2014, also citing creative differences. Then Ben Wishaw said things were "on hold" on his end, sparking rumors that Cohen was rejoining the film.
In 2015, writer Anthony McCarten was brought on to write the script. Then, in 2016, Rami Malek finally, officially, joined the cast as Mercury, with director (and alleged abuser) Bryan Singer on board to direct.
On-set drama, 2017
Pre-production began in London in July 2016, with both Singer and Malek still attached. Malek reportedly worked with a movement coach and a dialect coach to mimic Mercury's mannerisms and way of speaking, according to Rolling Stone. He was also fitted with prosthetic teeth to match Mercury's overbite.
But, once filming was underway, news of on-set drama quickly began to leak out. In December 2017, Fox halted production of the movie and released a statement saying, "Twentieth Century Fox Film has temporarily halted production on Bohemian Rhapsody due to the unexpected unavailability of Bryan Singer," according to the Hollywood Reporter.
Apparently Singer "failed to return to set after the Thanksgiving holiday break," sparking conversations about replacing him. A rep for Singer reportedly blamed his absence on "a personal health matter concerning Bryan and his family," but unnamed "insiders" told the Reporter that Malek and others were getting fed up with Singer's behavior on set.
Later that same month, the studio announced that it was firing Singer from the film. According to the Hollywood Reporter, Singer's on-set tension included a fight with Malek that escalated to the point of "Singer throwing an object."
In a statement from Singer, he seemed to dismiss the reports, saying, "Rumors that my unexpected departure from the film was sparked by a dispute I had with Rami Malek are not true. While, at times, we did have creative differences on set, Rami and I successfully put those differences behind us and continued to work on the film together until just prior to Thanksgiving." Director Dexter Fletcher, who had previously been attached to the project, was brought on to replace Singer. Despite this, Singer still retains a director's credit on the film.
Questions of queer erasure, 2018
Even months after filming wrapped, there was drama around Bohemian Rhapsody. When the first trailer was released in May, it sparked accusations that the filmmakers had "straight-washed" Mercury, a queer icon who had serious relationships with both men and women despite never being publicly "out."
Writer and TV producer Bryan Fuller pointed out on Twitter that the trailer seemed to include moments of romantic scenes with women but none of Malek-as-Mercury with a man. And others noticed that the official synopsis did not explicitly say that Mercury had AIDS, calling his disease instead "a life-threatening illness."
Seemingly responding to the controversy, a new trailer was released in July, this time containing more explicit references to Mercury's sexuality. But star Malek didn't do much to help the cause when he was asked whether or not he thought Mercury was a gay icon in an interview with Into earlier in October.
"What's really great about him is he never, uh, wanted to, or thought of himself as being boxed into anything," Malek said. "He just was. ... He says, 'I'm just me.' So 'icon,' I think encompasses, whatever the way you identify, I think. If he's an icon to one there's no reason that it requires another adjective, as far as I see."
Still, despite its upheavals, casting changes and controversies, Bohemian Rhapsody has chugged along. Catch it in theaters on Friday.