Tech Pulse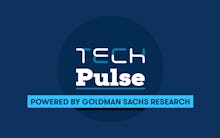 Mic partnered with Goldman Sachs to create Tech Pulse, a video series exploring rapid advances in technology that are reshaping competitive dynamics around the world (and in space). From augmented reality to driverless cars, these innovations are promising to create new industries, disrupt old ones, and change the way we live and work.
VR/AR: Vision of the Future
Let's put virtual and augmented reality into focus.
Space: All Systems Go
Why space is once again the new frontier.
Music: Worth Hearing About
Music's second—and more profitable—Digital Revolution.
Cars: Fueling the Future
What should we expect from cars of the future?
For more on trends shaping markets, industries and the global economy, subscribe to BRIEFINGS for weekly insights delivered to your inbox, check out the Exchanges at Goldman Sachs podcast on iTunes and Stitcher, or visit GoldmanSachs.com. Connect with Goldman Sachs on Facebook, Twitter, YouTube and LinkedIn.