Maui's Filipino food scene doesn't get the attention it deserves — that's about to change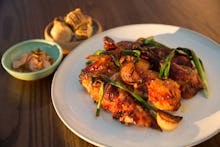 MAUI, Hawaii — As a Filipino-American who grew up in California, in my experience there's one thing that tends to bring extended Filipino families together: the rowdy parties. Each party is characterized by uncles (fondly called titos) betting on Filipino card games, Earth, Wind and Fire and Motown hits blaring through speakers and food — lots and lots of food. So much food, you'll likely leave with several plastic containers full of leftovers on your way home.
Titas — aunties — will pack up dishes from the overcrowded tables before the night is even over, like chicken adobo, a mixed rice plate and lechon (roasted pig), ensuring that everyone will be fed the next day, too.
If you're vegan, Filipino get-togethers are likely a terrifying place to find yourself. But for me, growing up, the camaraderie of family surrounding a table in a frenzied rush to the lumpia spring rolls was a regular weekend occurrence, as it was for a number of Filipino and non-Filipino chefs I spoke to in Maui, on a trip arranged by the Hawaii Tourism Authority.
"That was my upbringing: family parties and food all the time," Abby Ferrer, executive chef of Star Noodle, in Lahaina, Maui, said over breakfast. "My mom owned a Filipino catering business and grocery store. She always cooked, my grandmother always cooked. When she opened her business, she would make 15 or 20 different kinds of Filipino food. Everything was made from scratch. It was a traditional Filipino upbringing and was one of those things you carried with you, but you never truly understood."
Heritage and diversity are integral to Hawaii's food scene. Hawaii is only one of four states in the U.S. with "majority-minority," or a state in which an ethnic population outnumbers that of the white one. Asians make up nearly 37.8% of its population and Native Hawaiians and other Pacific Islanders make up 10% of the state's population, according to the 2017 U.S. Census Bureau. And Filipinos make up 13% of the state's overall population according to a 2010 report.
Filipinos have had a long history of immigration to the Hawaiian islands. Recruited by the Hawaiian Sugar Planters Association in the early 20th century, Filipinos arrived in droves, seeking steady work on the sugar plantations. (An estimated 120,000 Filipinos emigrated to the state between 1906 and 1930 for this reason.) After tougher immigration laws passed in the 1940's intended to stop this Filipino migrant workforce, the state began to limit its entry of Filipinos to just 50, and later 100, individuals a year.
Soon after the United States annexed Hawaii as the 50th state in 1959, however, the U.S. Immigration and Naturalization Act was passed, allowing a greater number of immigrants into the country. This included those petitioned relatives of Filipino immigrants which eventually gave rise to the burgeoning population of Filipinos on the island. According to a 2010 report, there are 1.3 million Filipinos in the state, the majority living on Oahu, and a smaller number of nearly 144,000 Filipinos on Maui.
From its museums to its people, the influence of diversity and Filipino culture can be felt everywhere, but especially shines on the island's restaurant menus, where influences from Japan, China, Portugal, and of course, Hawaiian natives, among others, fuse together to form a restaurant scene unlike anywhere else in the U.S.
The familiar plate lunch, once a meal for day laborers served out of food trucks, is a perfect representation of Hawaii's east-meets-west influences: two scoops of white rice and macaroni salad, served alongside a meat like chicken katsu or kalua pork. While visiting, I also learned Maui is a place where ancestry and family history can influence foods as small as a grain of rice, and where Filipino and Hawaii cuisine have long intertwined with one another to form an inimitable meal.
Maui is an island made up of several major cities. It measures roughly 729 square miles, smaller than Los Angeles County, but has a food scene that somehow feels large and ever-expanding, likely because of its culturally mixed restaurant scene. It's the second largest island of Hawaii, and hosted 2.7 million visitors in 2016.
I grew up spending summers and holidays on both islands, admittedly confined to areas with chain restaurants like Bubba Gump's Shrimp Company and ABC convenience stores — a tell-tale sign I was a visitor. In passing years, Oahu, where my parents have since moved, has become invariably marked by its thriving tourism industry, with its hotel high-rises, the sudden appearance of new food halls and its ever-expanding labyrinth of a shopping mall.
Maui, too, has several major resort areas catering to tourists in Wailea and Kapalua, but if you venture beyond your hotel for waterslide attractions, you'll find places still left untouched by the throngs of tour buses, like the small, inland town of Makawao, or the deserted beaches around Hana.
Over the course of four-day stay on Maui, I indulged in local cuisine like fresh mahi-mahi, ahi and poke. But what exactly is "local" food in a place made up of recent immigrants? To the usual visitor, that may look like pineapple on a pizza or burger. But according to chef Alan Wong, one of the founders of the Hawaiian Regional Cuisine movement, Hawaiian food staples include dishes like kalua pig, poke, poi, other raw fish, sweet potato and taro — but "local" cuisine is now a modern interpretation of those traditional dishes.
Half-Japanese, one-quarter Chinese and one-quarter Hawaiian, Wong was born in Japan but moved to Hawaii when he was an infant. His food preferences, too, were informed by the mixed cultural identity of his family and upbringing. "I grew up eating at a lot of potlucks — you invite 10 families together to have a party and you get 10 different dishes, eating things like Filipino, Chinese, Korean, Japanese, Portuguese," he said. "That's the way we grew up, by sharing food, sharing flavors and discovering new things. And it's getting really popular all across America: chefs are embracing their lineage and heritage."
At Ferrer's Star Noodle, I invited my parents to tag along. Together, we tasted our own Filipino heritage in the form of adobo ribs, covered in garlic, black pepper, vinegar and shoyu, and fried saimin, a stringy noodle dish with bean sprouts, scallions, egg, and slices of Spam. The messiness of the ribs combined with my parents sitting across from me, for a moment, felt like being back at a Filipino party of my own childhood when I was 13 and at the dinner table.
Like in many Filipino households, Maui's restaurants also share a common goal of creating a sense of hospitality. Growing up, my aunts and uncles strived to make others feel comfortable in their home, which often included providing a nearly endless stream of food.
At the newly opened Lineage by Sheldon Simeon of Top Chef fame, that sense of familial hospitality is reflected in the restaurant. Immediately upon sitting down for my dinner there on a recent Saturday night, a rolling cart swung by our table, filled with small bowls of boiled peanuts with oxtail soup spice, kimchi dip with "one-ton" chips, atchara, a popular pickle in the Phillippines and pipikaula, or dried beef.
"We wanted to have food on the table once you come walking in," Simeon told me over the phone. "If you were to go to my auntie's house, the first thing she'd say even before saying hello would be, 'Hey, make yourself a plate. Go eat. There's already food on the table.'"
After the "cart menu," waiters brought out foods from Filipino parties that were familiar to me, like chicharrónes, or fried pork rinds, crispy pata, or fried duck and a bowl of turkey adobo.
Every dish at Lineage felt nostalgic but re-interpreted in a way that modernized traditional Filipino, as well as Chinese, Japanese and Hawaii dishes. Love traditional mochi? Try it at Lineage, where it's deep-fried and dipped into duck pâté. Does the plate lunch sound enticing? Try Simeon's "Bottom of the Plate Lunch," a mix of cabbage, kalbi dressing, mac salad mayo and smoked beef fat, meant to simulate the remains of a plate lunch, as its name suggests.
According to Simeon, many of the recipes are updated renditions on recipes from his own experience growing up at Filipino potlucks. "The 'pork and peas' is our family recipe and it's exactly the way you served it as a party," he said. "I'm very fortunate here in Hawaii, getting together and having foods with friends and family is a normal thing. The one thing that we cherish is having family around and all those years of cooking for large get-togethers was definitely part of our lives."
And Simeon said the restaurant's name — Lineage — pays homage to his parents, who were his first guests on opening day. "I saw their eyes light up," he said. "I think I made them proud."
My experience at the restaurant revealed the ways in which Filipino and Hawaii influences, among others, have long informed one another on Maui. And given the growing number of popular Filipino restaurants in cities like New York and L.A., maybe that influence isn't isolated to the Hawaiian islands.
I'm older now, and see extended family on a few occasions, like a wedding or funeral. But food remains the bond that ties us together, in the midst of tragedy or an otherwise celebratory event. In August, my brother got married on the island of Hawaii, where food and drink (a lot of drinks) served as the backdrop to a rare family reunion. In the midst of the wedding's luau-themed events, it suddenly dawned on me that it felt exactly like being at one of those Filipino parties again. Titos were drinking, titas were eating and my cousins surrounded the lechon like crows. We were all a little older, but the connections to one another still felt the same. And in my short stay there, Maui's chefs all seemed to share that sentiment of familial bond and a mixed cultural identity — one that that emanated through every bite of food.