Today in Trump's America: Trump claims he can revoke a constitutional amendment by executive order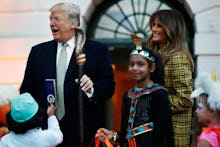 We've made it to Tuesday, folks, which means we're exactly one week away from the midterm elections.
Here's what's happening in Trump's America:
• President Donald Trump is traveling to Pittsburgh to mourn the 11 people killed and the several others who were injured when a man opened fire in a synagogue — an attack law enforcement officers say was driven by hatred for Jews and is being treated as a hate crime.
About last night: Pence event has a Jews for Jesus-affiliated rabbi deliver a prayer for Pittsburgh synagogue victims
Vice President Mike Pence was in Michigan Monday night to campaign for a number of GOP candidates, including Republican gubernatorial nominee Bill Schuette, vulnerable GOP Rep. Mike Bishop, 11th District Republican nominee Lena Epstein and Republican Senate nominee John James.
Before the event began, a rabbi delivered a prayer for the 11 people slaughtered while worshipping at a synagogue in Pittsburgh on Saturday. But it was not a traditional rabbi. He was a Messianic rabbi who leads a synagogue that espouses beliefs shared with Jews for Jesus — a religious sect many Jews do not consider to be Jewish, as one of the goals of the sect is to convert Jews to Christians.
The rabbi, Loren Jacobs, prayed to "Jesus the Messiah" in his prayer rather than recite the kaddish, the traditional Jewish prayer of mourning.
The move led to an outcry from members of the Jewish community.
"Yesterday I received the directory of Michigan Board of Rabbis. There are over 60 rabbis on this list and yet the only rabbi they could find to offer a prayer for the 11 Jewish victims in Pittsburgh at the Mike Pence rally was a local Jews for Jesus rabbi? That's pathetic!" Rabbi Jason Miller of Detroit wrote in a Facebook post.
Jacobs was apparently invited by Epstein, who is running for Congress in a suburban Detroit district. She released a statement after Jacobs' attendance sparked an outcry.
"I invited the prayer because we must unite as a nation — while embracing our religious differences — in the aftermath of Pennsylvania," Epstein said, saying those who "attack" her for inviting Jacobs are "guilty of nothing short of religious intolerance."
Today in Trump's America: Trump claims he'll revoke birthright citizenship by executive order
In an interview with Axios, Trump claimed he will sign an executive order to ban birthright citizenship — a right granted by the 14th Amendment to the United States Constitution.
Of course, you can't revoke a constitutional amendment by executive decree. But here's what Trump told Axios in an interview that will air on HBO.
"We're the only country in the world where a person comes in and has a baby, and the baby is essentially a citizen of the United States," Trump said Monday. "It's ridiculous. And it has to end."
The 14th Amendment states, "All persons born or naturalized in the United States, and subject to the jurisdiction thereof, are citizens of the United States and of the State wherein they reside."
That text is pretty clear. Trump taking such an action would spark legal challenges, and constitutional experts doubt he would be successful.
It is untrue that the United States is the only country in the would with birthright citizenship, which is also known as jus soli. At least 30 nations around the world practice birthright citizenship.
This marks the latest Trump attack on immigration — which he's focusing on in the final days of the midterm election in an effort to appeal to his base of voters.
And the rest...
Fox News continues to fear monger over the migrant caravan: Fox News is back to covering the caravan, having on guests who make baseless claims that the migrants are carrying diseases. One guest claimed the migrants are carrying smallpox, a disease that was eradicated in 1980. And a guest on Lou Dobbs' Fox Business Network show said "the continued invasion of this country" by immigrants has led to "diseases spreading across the country that are causing polio-like paralysis of our children." Dobbs' show has caused controversy for Fox, as he had on a guest who made anti-Semitic comments. That guest, Judicial Watch's Chris Farrell, has been banned from appearing on Fox networks.
Enemy of the people: Trump sat down with Fox News' Laura Ingraham Monday night, who actually pressed Trump on why he continues to call the media the "enemy of the people" in the wake of the attempted bombings targeted at CNN and others.
"How does it help expand your base to call [the media] the enemy of the people? How does it help America heal in times like this?" Ingraham asked Trump.
"That's a very good question, very fair," Trump responded, going on to say that calling the media the enemy is "my form of telling the truth."
Oct. 30, 2018, 9:30 a.m.: This story has been updated.
Correction: Oct. 31, 2018