Cardi B says Nicki Minaj's Diesel campaign was offered to her first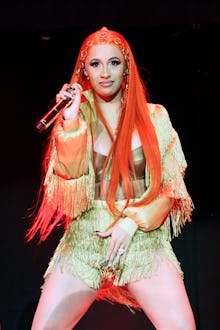 In a 10-part Instagram post Monday, rapper Cardi B reignited her feud with Nicki Minaj, saying, among many points, that Minaj's recent Diesel campaign was first offered to Cardi before it went to Nicki.
"You out here saying that I'm trying to stop your bag, right?" Cardi said. "But I'm actually helping you get a bag. Because that Diesel deal that you got, yeah that came to me first and I had to decline it because I'm already working with fashion brands, you know, which y'all gonna see cause there's more than just Fashion Nova."
The campaign itself came under fire for its casting of Minaj due to its theme of cyberbullying and many pointing to instances of Minaj herself cyberbullying.
Within minutes, Wilhelmina CEO Bill Wackermann responded to Cardi directly on Instagram in several now-deleted posts (screen shots, however, are forever). Wilhelmina's association with Minaj dates back to March 2017, when the rapper signed a modeling contract with the agency.
Wackermann took a screenshot of Cardi's story, writing "Tell the truth Boo! That Diesel deal was built AROUND the one and only Queen," adding that he had "the receipts" to prove it.
In yet another now-deleted response, Cardi hit back with four pages of documents of the preliminary discussions of the deal. "BOOM diesel receipts... oh and by the way sis everyone has a Fashion Nova deal."
She has a point: Fashion Nova celeb sponsorships have included Kylie Jenner, Khloé Kardashian, Tamar Braxton, Amber Rose, Cassie, Tess Holliday, Blac Chyna, Baddie Winkle and more.
If you zoom in on page three (seen here) you'll note a timeline that would see Cardi's collection released in January 2019. Nicki Minaj's "Hate Couture" line was released in September. Thus, Cardi's receipts seems to discredit her earlier assertion that she was offered Minaj's campaign first.
The feud seemed to hit pause on Monday night, with Minaj tweeting: "OK you guys, let's focus on positive things only from here on out. We're all so blessed. I know this stuff is entertaining & funny to a lot of people but I won't be discussing this nonsense anymore. Thank you for the support & encouragement year after year. Love you."
Cardi reposted Nicki's tweet on Instagram, writing: "@nickiminaj alright then! Let's keep it positive and keep it pushing!"
On Tuesday morning, Steve Madden's official Twitter account also decided to weigh in in defense of Cardi, adding "@NICKIMINAJ you can't turn down an offer that was never made. #StopLying." (This in response to this tweet from Minaj stating that she had turned down a Madden deal.)
Dragging Diesel, Fashion Nova and Madden into the back and forth might prove an ill-conceived business move for both women. No matter who is telling the truth, this is unwanted attention on a campaign built around ending cyberbullying. (Not to mention the stan wars that have ensued online as a result, which fly in the face of the campaign messaging). It also might make other brands think twice before engaging with either celebrity, particularly Cardi who likely broke the standard nondisclosure agreement that business deals like this begin with.
But is she liable? "Chances are no, she would not because an offer is not a contract and there is no language around confidentiality that I can see," Nakia D. Hansen, IP attorney at Odegard Law in Brooklyn, said in an interview. However, "it's generally expected or implied that these aren't the types of documents to blast on social media in the midst of a major celebrity feud."
"It's certainly messy though," she adds. "Any contract that would have developed from this offer/deal memo would have almost certainly included terms around confidentiality, nondisclosure, nondisparagement and perhaps even a morals clause. It's a fair question to wonder if even that would have prevented her from airing out the receipts. Even the most basic contracts provided to micro-influencers have language that dictates the behavior of influencers while representing a brand."
Does Hansen think this will have any affect on Cardi's future endorsements? "I don't think this will make her completely untouchable for collabs and brand ambassadorships in the future but many might think twice about the risk and reward involved in working with a star who thinks it's fine to blast internal documents (and emails) on Instagram, one who fights at events, and levels threats to peers."
Regardless, for now, one of rap's biggest present-day feuds is taking an intermission, if not the final curtain.
Mic has reached out to Diesel and Wilhelmina for further comment.