NRA endorses NY Rep. Claudia Tenney at practice facility formerly used by a mass shooter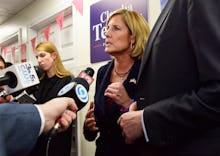 In the wake of yet another deadly shooting in America, many politicians have sought to distance themselves from the National Rifle Association. But not New York Rep. Claudia Tenney, who on Monday accepted an endorsement from the gun rights group inside a practice facility formerly used by a mass shooter.
On Monday, NRA president Oliver North threw the organization's support behind Tenney, the incumbent Republican representative of New York's 22nd Congressional District, during remarks delivered at the Binghamton Rifle Club — the same location Jiverly Wong used for target practice before killing 13 people in 2009.
"Congresswoman Claudia Tenney has always been an ardent supporter of the Second Amendment," North said during the event. "Claudia Tenney has always stood with law-abiding gun owners and defended the Second Amendment against those who don't understand the meaning of the words 'shall not be infringed.'" 
In 2009, Wong walked into the American Civic Association, where he had once taken English as a second language classes, and killed 13 immigrant students and faculty members before killing himself. According to a source who spoke to police at the time, Wong — who had fired 98 shots from two handguns in about a minute during the shooting — had previously been spotted practicing at the Binghamton Rifle Club.
When asked on Monday whether the site's role in one of the deadliest mass shootings in New York history had factored into the decision to hold the event there, Tenney seemed puzzled.
"It's unfortunate that he was here," Tenney said, turning to her staff. "I was not aware of that, I'm sure my staff was not aware of it, but I don't think that a negative light should be put on the rest of the people that are law-abiding gun owners who are members of this club. I think it's not really fair to everybody that works here and is a member here."
John Hussar, president of the Binghamton Rifle Club, confirmed to the Binghamton Press & Sun-Bulletin that Wong had held a limited membership to the facility.
"At the time, there was nothing to indicate or foreshadow that he was going to go off and do something crazy," Hussar said. "We respect that there are a lot of law-abiding citizens that utilize fire arms in a positive way, and this should not be a reflection on them in any way." 
Tenney is running for re-election against Democrat Anthony Brindisi of Utica, New York, in a race ranked a virtual toss-up by RealClearPolitics. Her campaign has landed in hot water for insensitivity over gun violence in the past, particularly after a radio interview during which she made the unsubstantiated claim that "so many of these people that commit the mass murders end up being Democrats."