Special counsel asks FBI to investigate scheme to bring abuse allegations against Mueller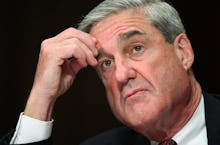 The special counsel's office has asked the FBI to investigate a conservative scheme to pay women to make false sexual assault allegations against Robert Mueller — the former FBI director who is leading the Russia probe.
"When we learned last week of allegations that women were offered money to make false claims about the special counsel, we immediately referred the matter to the FBI for investigation," spokesman Peter Carr said in a statement to the media Tuesday.
The statement came after several reporters described being approached by a woman who says she was offered money to make up sexual assault allegations against Mueller in what appears to be an effort to discredit the special counsel, who has been investigating the Trump campaign's ties to the Kremlin.
The New Yorker's Jane Mayer, who, with Ronan Farrow, has co-authored a number of bombshell reports about sexual misconduct by powerful men, described the allegations as a "hoax."
"It's baloney," Mayer tweeted Tuesday.
According to the Atlantic's Natasha Bertrand, the special counsel's office became aware of the scheme after journalists informed them that they had learned of "a woman alleging that she herself had been offered roughly $20,000 by a GOP activist named Jack Burkman 'to make accusations of sexual misconduct and workplace harassment against Robert Mueller.'"
Burkman, a conservative commentator and lobbyist known for spreading conspiracy theories, had claimed Tuesday that he would "reveal the first of special counsel Robert Mueller's sex assault victims" during a press conference on Thursday.
Burkman, who has pushed conspiracy theories related to the death of former Democratic National Committee staffer Seth Rich and has a reputation for seeking attention, had made a similar promise to reveal sexual assault allegations against a sitting congressperson at a press conference in November 2017, but he failed to do so.
Nevertheless, Burkman's latest promise was pounced on by right-wing outlets and figures, including the Gateway Pundit and prominent young Trump devotee Jacob Wohl.
But the allegations appear to be bunk.
According to the Atlantic, the woman told reporters that Burkman "offered to pay off all of my credit card debt, plus bring me a check for $20,000 if I would do one thing." When she asked him what he wanted her to do, he told her "to make accusations of sexual misconduct and workplace harassment against Robert Mueller" and to sign an affidavit saying as much.
Mueller has been under attack from Trump and his conservative allies since assuming control of the Russia probe in 2017.
Trump routinely accuses Mueller of leading a politically motivated "witch hunt" against him, and has reportedly attempted to fire or rein in the special counsel in the past.
Mueller, who has already brought down others in Trump's inner circle, is expected to deliver key findings in his Russia probe after the Nov. 6 midterm elections.
Oct. 30, 2018, 7:45 p.m.: This story has been updated.