Oprah, Will Ferrell, LeBron James: These celebs are really getting out the vote for Nov. 6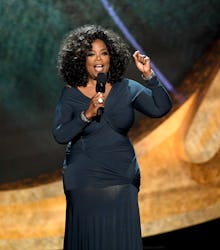 The midterm elections are fast approaching, and activists, advocates, politicians and laypeople alike have been hitting the pavement hard, campaigning for candidates and trying to get out the vote come Tuesday. Celebrities have been no exception — here are some of the stars who have been putting their famous faces to work to get Americans to the polls in November.
Oprah
On Tuesday, mega-celeb Oprah Winfrey and her pal, Maria Shriver, posted a video from Winfrey's Twitter account encouraging all Americans to vote, regardless of party. "Nov. 6 is a chance for all of us to vote, whether you're a Democrat, a Republican, an independent," Shriver says in the short video.
To which Winfrey adds. "It's more than your civic duty, it's like your responsibility as a human being. ... Not only democracy depends on it, our country depends upon it. So vote, vote, vote!"
Alicia Keys, America Ferrera and Liza Koshy
Singer Alicia Keys and actors America Ferrera and Liza Koshy took a get-out-the-vote road trip to Texas to encourage young women voters to get to the polls through the organization VoteTrip. The trio made stops all around the state — check out a video of their mini-tour here.
John Legend (and some other famous singers)
On Oct. 23, singer John Legend posted a video to Twitter of himself singing a short song he and Linda Perry wrote to encourage users to vote in November. "Share, sing your own version, then vote!!" he wrote in the tweet. Well, some other singers took him up on that, including Kelly Clarkson and Christina Aguilera.
Will Ferrell
Comedian Will Ferrell stumped for Georgia Democrat and gubernatorial candidate Stacey Abrams in October, knocking on doors and encouraging college students to help out with the Abrams campaign, according to HuffPost. "We're gonna win by knocking on doors," Ferrell told students at Kennesaw State University in a video posted to Abrams' Facebook page. "All the doors."
Kerry Washington, Uzo Aduba, Kathryn Hahn, Lena Dunham, Mandy Patinkin and more
The progressive organization Swing Left shared "When We Win," a star-studded video, in early October as part of its #TheLastWeekend campaign. The short video encouraged people not only to vote, but to volunteer their time and energy to canvass and phone bank for progressive politicians. Celebs like Jack Antonoff, Kathryn Hahn and Kerry Washington all appeared in the vid.
LeBron James
It may have been a subtle message — but it came from a very, very high-profile celebrity. Philanthropist, actor, activist and Los Angeles Lakers player LeBron James donned a Beto O'Rourke hat before an October game against the San Antonio Spurs.
O'Rourke is challenging Republican Ted Cruz for a Senate seat in Texas — and James is hardly his only celebrity supporter. Other famous Beto supporters include Connie Britton, Eva Longoria and Travis Scott.
Judd Apatow and Pete Davidson
Comedian Pete Davidson and director Judd Apatow teamed up to co-host a Swing Left event in West Hollywood in October (where Davidson joked about his recent split from Ariana Grande). The event was a benefit for the progressive organization, and Apatow reportedly thanked Davidson for showing up despite his recent break-up.
"Well, you put me on the flyer, I had to," Davidson responded, according to HuffPost. "Fuck my feelings." Apatow apparently retorted, "I care more about America than your feelings, I do. I care more about America than Pete's feelings."
Jesse Williams
On Tuesday, actor and activist Jesse Williams posted a video on his Instagram account urging Florida voters to vote yes on Amendment 4, which would restore voting rights to many people who've previously been convicted of a felony and have completed their sentences. "Florida can make history this election by restoring voting rights to the 1.4 million people who've been stripped of their eligibility! Let's step up, so they can step out and #Vote," Williams wrote on Instagram.
Michael B. Jordan
Black Panther star Michael B. Jordan surprised some Georgia voters in October when he showed up at their doorsteps to encourage them to vote in the midterm elections. Jordan's door-to-door visits were part of the Color of Change PAC's #VotingWhileBLK initiative, aimed at mobilizing and empowering black voters.