The forgotten black history of London's famous Notting Hill neighborhood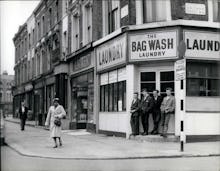 LONDON — Today, Notting Hill is one of London's glitziest boroughs. But one walking tour is dedicated to uncovering its controversial history.
Every weekend, more than 100,000 people visit the London borough of Notting Hill to linger in its coffee shops and browse one of the world's largest antique markets. It's one of London's richest neighborhoods and its colorful houses sell for millions. But Notting Hill was once a very different place. For three decades, it was home to West Indians seeking better lives in Britain. According to accounts from the time in Trevor and Mike Phillips' co-authored book Windrush, it was run down, poor and for a short time in 1958, the scene of Britain's worst race riots. Evidence of this history has almost vanished, so if you want to know more, the best way to do so is on a walk with Tony Warner.
Warner, a historian and social entrepreneur, has been running his guided tour of Notting Hill for 11 years. His motivation is simple: "You do any of the usual London walks that you see advertised and there's no reference to black people — and I thought that was ridiculous," he said.
At the first stop in Powis Square, the grand, four-story terraces gleam in the sun. Today, these houses cost around 4 million pounds each. But as Warner said, in the '50s, "they would have been divided up into flats, and the flats divided up into single rooms." Corrupt landlords even charged per bed and rented out their coal cellars as places to sleep, he added. As Windrush recounts, white working-class families endured these dreadful living arrangements, as did the West Indians. They were the Windrush Generation, so-called because they came from the Caribbean on ships like the HMT Empire Windrush. But when they arrived, ads for rooms often read "no blacks accepted," and so they were forced to move to Notting Hill, where landlords could exploit them and make them pay more.
The presence of the Windrush citizens created tension in Notting Hill. Locals didn't like the shebeens — the underground jazz and drinking clubs — or the gambling that went on. Plus, "there wasn't a lot of social mobility for white people at this stage either," Vanessa Williams, who writes about black issues, said in an interview for the London-based charity the Octavia Foundation. "When the immigrants came in and were prepared to work for lower wages, this caused a lot of resentment between the two communities." Things became worse when — as Edward Scobie recounts in his influential book Black Britannia — Colin Jordan based his racist group the White Defense League on Princedale Road. Oswald Mosley's group, the British Union of Fascists, was in Kensington Park Gardens. Its newspaper, Action, stirred ill-will with headlines like "Blacks Invade Britain."
The racial tension finally exploded in the area around Blenheim Crescent. Today, it is a conventional, bourgeois Notting Hill street — home to Books for Cooks and a gourmet spice shop. But for four nights in August 1958, it was where gangs of "Teddy Boys" wearing drainpipe trousers marched with knives and weighted belts to, in their words, "kill those black bastards." The West Indians blockaded themselves inside the house at No. 9, and hurled Molotov cocktails at the gangs. Many were hospitalized after the chaos. A few months later, a group of white men stabbed Antiguan Kelso Cochrane on Golborne Road. The verdict was "murder by a person or persons unknown"' as witnesses were too scared to come forward.
In an interview after our tour, Warner said the reason why many people know nothing about this story is "racism, straight out plain and simple," he said. "There has been a deliberate attempt to erase this black history." Warner said reactions to his tour include "astonishment, surprise, anger, shock, dismay and a bit of confusion — because they are trying to work out how they didn't know that this history exists."
When the tour stops next, Warner points to a blue plaque high up on a wall, which reads "Claudia Jones, Mother of Caribbean Carnival in Britain." The person responsible for it is Jak Beula. He runs Nubian Jak, Britain's only organization championing black historical figures with plaques. Beula had the idea when English Heritage, the charity that manages England's historic buildings, began getting complaints that their existing plaques were too white.
"There was a lack of diverse plaques," he said in an interview. "I thought, they're not going to do it, so let's do it ourselves." In Notting Hill, Beula has funded eight so far, including one for black rights activist Claudia Jones, who after the riots, held a "jump up" for a week. The event is recounted in detail in Lloyd Bradley's book Sounds Like London, and is widely regarded as the first carnival to have taken place in Britain.
Two other figures have plaques nearby — social activist Rhaune Laslett and steel pan player Russell Henderson. In 1965, Laslett held a small multicultural festival in Notting Hill. Henderson was at the event, Beula said, and at one point set off down the road playing pan with fellow musicians Sterling Betancourt and Ralph Cherry. "They were like pan-playing pied pipers," Beula said. "They came back with an entourage in tow." This moment was deemed the origin of the beloved Notting Hill Carnival, which now attracts a million-plus visitors every year.
Next, the tour heads to All Saints Road, a street full of designer shops and fashionable restaurants. We stop outside the Rum Kitchen. In the '70s, this was the location of the Mangrove, a local restaurant that was raided by police several times. When a group from the black community held a protest against the excessive raids, they found themselves arrested and facing inflated charges. The case, which was widely reported on in the British media, was dismissed, but the group — who became "the Mangrove Nine" — was arrested and charged again. When the judge threw the case out a second time, it was clear the black community of Notting Hill had won a battle against institutional racism.
By the '70s, Notting Hill was one of London's hippest boroughs. Island Records turned a church on Ladbroke Grove into a recording studio. Bob Marley, Van Morrison and the Beatles hung out in local bars. Pink Floyd played gigs at All Saints Church Hall. At the same time, the fabric of the area was changing. Developers bought up flats to meet the demand from young professionals. Classy restaurants and shops appeared. By the '80s, there was little evidence of the borough's multicultural past.
The gentrification of Notting Hill is still happening today. Apart from the yearly carnival, the plaques and the black history walks, the area's roots are well-hidden. If you're lucky, you might catch someone playing steel pan on Portobello Road. You can browse in Peoples Sound on All Saints Road, a Jamaican record shop and one of the few record stores remaining from the borough's musical heydays. You can grab some saltfish or jerk chicken from Jay Dees take-out around the corner. And that is pretty much it.
But there is one place where you can still find fragments of the story. The Tabernacle Arts Center in Powis Square was a church that later became a popular music venue holding reggae and rap gigs. Inside, you'll find the walls covered in old photographs of the carnival, the riots and the black power-inspired protests of the '70s.
Beula and Warner continue to tell visitors the stories of black people in Britain. Warner's next project is a three-hour black history bus tour around London and a black history river cruise up the Thames. In August, in a community center on Warnington Road, Beula unveiled a giant 6-foot plaque listing 70 of the most important Notting Hill carnival pioneers. Just because you can't always see London's black history doesn't mean it isn't there.