Mic Daily: Conversation swirls around Trump's 14th Amendment claims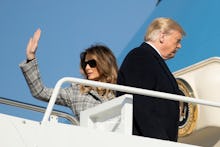 Hello, dear readers, and happy Tuesday! The day sure started off with a bang, didn't it? Early in the morning, Axios published an excerpt from an interview with President Donald Trump, in which he claimed he plans to use executive powers to end birthright citizenship — which, as we'll discuss right off the bat, isn't a thing he can do.
Let's dive in, shall we?
Trump apparently wants to end birthright citizenship, the rule established by the 14th Amendment of the Constitution that anyone born in the United States is automatically granted citizenship. It isn't, as Mic's Emily Singer explains, simply something the president can eliminate. Nor is the United States, as Trump claims, "the only country in the world" that has such a policy.
This one's a doozy, folks. Several reporters at various outlets have said they were approached by a woman claiming to have been offered money in exchange for making false sexual assault allegations against Robert Mueller — the former FBI director currently leading the Russia probe as special counsel.
As a result, the special counsel's office has asked the FBI to investigate these claims — but right now, we have more questions than answers.
The Queen biopic Bohemian Rhapsody will finally be released on Friday — and its road to release has been anything but smooth. From casting, to directors, to disputes over the content of the movie itself, Bohemian Rhapsody has been mired in controversy for years.
The iconic Vermont-based ice cream company Ben and Jerry's has a brand-new flavor — one that directly speaks out against the Trump administration. It's called "Pecan Resist," a name that sounds like it's supposed to be a pun, but that doesn't really make much sense to me. (A play on the words "we can resist," maybe? Is that a phrase?)
CBD oil — believed by some to be a remedy for anxiety, pain and other ailments — has quickly become the center of a multimillion-dollar industry, and it perfectly encapsulates our current cultural moment. Confused? Allow Mic editor Kate Bratskeir to explain.
Mic Daily is Mic's newsletter that cuts through the noise and lands in your inbox every weekday. We carefully curate each edition to send you a cross section of our most vital stories of the day.