Today in Trump's America: Smear attempt against Robert Mueller continues to unravel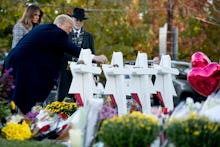 Happy Wednesday, readers.
We're six days out from the midterm elections, and Trump is back on the campaign trail — heading down to the perennial swing state of Florida to help boost Republican candidates.
It's also Halloween, so beware of political tricks and treats. If you need a pick-me-up, here's a photo of my toy poodle in costume.
Here's what's happening in Trump's America:
• Trump's day begins at 11:30 a.m., when he'll get his daily intelligence briefing.
About last night: Pittsburgh tells Trump he's not welcome
Trump did not get a warm welcome when he touched down in Pittsburgh to pay his respects to the 11 people killed in a synagogue by a gunman apparently motivated by anti-Semitic hatred.
Thousands of protesters lined the streets of the Squirrel Hill neighborhood where the shooting took place, with many holding signs reading "words matter" and "president hate leave our state."
"President Trump, you are not welcome in Pittsburgh until you fully denounce white nationalism," other signs read.
Pittsburgh Mayor Bill Peduto asked Trump to delay his visit until after the dead had been buried. The four top congressional leaders — Senate Majority Leader Mitch McConnell, House Speaker Paul Ryan, Senate Minority Leader Chuck Schumer and House Minority Leader Nancy Pelosi — all declined an invite from the White House, as did home state GOP Sen. Pat Toomey.
Trump's visit came as Pittsburgh began burying its dead, holding funeral services and sitting shiva, a Jewish mourning tradition, for those killed in the mass shooting.
Today in Trump's America: Don't mess with Mueller
The fallout continues today after conservative conspiracy theorist and Twitter personality Jacob Wohl finds himself in legal trouble, accused of being part of an elaborate scheme to gin up false accusations of sexual assault and alcoholism against special counsel Robert Mueller.
Mueller's office referred the scheme to the FBI.
Details of the scheme continue to get weirder and weirder, with Wohl's email and his mother's phone number tied to the website of the security firm that claims to have investigated the phony Mueller allegations.
The New Yorker's Jane Mayer also found a photo of the alleged head of the security firm appears to be an obscured photo of Wohl himself, while another photo of an individual alleged to be working for the security firm appears to be actor Christoph Waltz.
Gateway Pundit, a right-wing conspiracy website, had at first published the allegations against Mueller. But after the scheme appeared to unravel, the site removed the allegations and said it is now "investigating" them.
And the rest...
A bridge too far: Rep. Steve King (R-Iowa) is hemorrhaging support from groups after making a series of white supremacist comments.
Companies like Land O'Lakes and Purina announced they would no longer give campaign contributions to King. And National Republican Campaign Committee Chairman Steve Stivers condemned King's comments on Tuesday.
"Congressman Steve King's recent comments, actions, and retweets are completely inappropriate," Stivers tweeted on Tuesday. "We must stand up against white supremacy and hate in all forms, and I strongly condemn this behavior."
Of course, King's views are nothing new. He's been saying offensive and hateful things for years, including his 2013 comment accusing people covered by the Deferred Action for Childhood Arrivals program of being drug mules with "calves the size of cantaloupes" from "hauling 75 pounds of marijuana across the desert." 
Some are pointing out that it's too little, too late for Republicans to begin denouncing him.
"It's not like Steve King recently did something more offensive than usual and people are responding to it," Sen. Brian Schatz (D-Hawaii) tweeted. "He has always been this way and he has always been welcome in the House Republican Conference."
Yexit: Kanye West is off the Trump train, tweeting on Tuesday he is "distancing [himself] from politics and completely focusing on being creative!!!"
"My eyes are now wide open and now realize I've been used to spread messages I don't believe in," West tweeted on Tuesday.
This comes after West had a bizarre meeting with Trump in the White House, which Trump has used to say that black voters should back him and other Republicans.
West also distanced himself from black conservative activist Candace Owens, who launched the "Blexit" campaign to get black people to leave the Democratic Party.
"I introduced Candace to the person who made the logo and they didn't want their name on it so she used mine. I never wanted any association with Blexit. I have nothing to do with it," West tweeted.
Unconstitutional: Even prominent Republicans are now knocking down Trump's claim, released as a promo by the news site Axios for its upcoming HBO show on Tuesday, that he can repeal a Constitutional amendment by executive order.
"As a conservative, I'm a believer in following the plain text of the Constitution, and I think in this case the 14th Amendment is pretty clear, and that would involve a very, very lengthy constitutional process," Paul Ryan said on a radio show.
George Conway, a lawyer and husband of White House counselor Kellyanne Conway, cowrote an op-ed in the Washington Post saying it is unconstitutional to repeal an amendment by executive decree.
"Such a move would be unconstitutional and would certainly be challenged. And the challengers would undoubtedly win," Conway wrote along with Neal Katyal, former solicitor general under former President Barack Obama.
Nov. 2, 2018, 1:55 p.m.: This story has been updated.