Hype Daily: Kanye West is "distancing himself from politics" and more entertainment news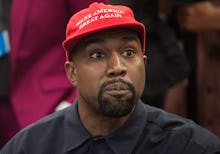 Greetings all you ghosts, ghouls and goblins. Happy Halloween and also happy Wednesday. Let's take a look at today's spooky entertainment news, shall we?
Kanye West seems to have backtracked on his support for Trump
Kanye West, who met with President Donald Trump while wearing a "Make America great again" hat earlier in October, now says he's stepping away from politics. "I support creating jobs and opportunities for people who need them the most, I support prison reform, I support common-sense gun laws that will make our world safer," West tweeted on Tuesday night. "My eyes are now wide open and now realize I've been used to spread messages I don't believe in. I am distancing myself from politics and completely focusing on being creative!!!"
It's not clear who, or what, pushed West to step away from his Trump-loving rhetoric, but some have suggested that his wife, Kim Kardashian West, had a hand in this. Either way, I'm glad West has finally decided it's time to hang up the MAGA hat.
Mr. Feeny stopped a burglary
Actor William Daniels, probably best known to millennials for his role as Mr. Feeny, the lovably dry teacher from the sitcom Boy Meets World, stopped an attempted burglary in his Los Angeles home on Saturday, local L.A. outlet KABC reports.
The 91-year-old actor was home with his 89-year-old wife, Bonnie Bartlett, when an intruder "forced open a back door." But apparently Daniels was able to "frighten away the person," the actor's publicist told KABC. Probably with a stern yet compassionate talking-to. Feeny!
Naomi Watts will star in the Game of Thrones prequel
Naomi Watts has been cast as the new star in the pilot of the upcoming Game of Thrones prequel, Variety reported on Tuesday. Apparently, Watts' character is "a charismatic socialite hiding a dark secret." The show is supposed to take place long before the events of Game of Thrones, but you can probably count on some Stark ancestors showing up. According to Variety, this upcoming prequel series is just one of five different Game of Thrones projects coming from HBO. Five!
Variety has released a new report of TV stars' salaries
Speaking of Variety, the outlet recently unveiled a comprehensive report of the salaries of top TV stars. There's lots of interesting info there, including that, perhaps unsurprisingly, some of the biggest payouts go to movie stars who come over to TV.
Reese Witherspoon will be paid $1.1 million per episode for her upcoming "untitled Apple dramedy" (and so will her co-star, Jennifer Aniston). And Javier Bardem will earn $1.2 million per episode on his Amazon and Amblin TV miniseries about explorer Hernán Cortés. Check out the report here for all the info, including some of the highest paid actors in TV comedy, drama and unscripted television.
Put this on your radar: Homecoming
The new Amazon series Homecoming premieres on Friday, and it's been getting good buzz. The show, which was adapted from a podcast, stars Julia Roberts as Heidi, an employee at Homecoming, a facility that helps soldiers transition back to civilian life.
According to the Amazon description, "Years later she has started a new life, when the Department of Defense questions why she left Homecoming. Heidi realizes there's a whole other story behind the one she's been telling herself." Rolling Stone reviewer Alan Sepinwall called it "the future and the past all at once and a pleasure to watch throughout."
This has been Hype Daily, Mic's morning entertainment roundup. It's everything you need to catch up on in the entertainment world and what to look forward to today. Want to receive this as a daily email in your inbox? Subscribe here.