Nicki Minaj tells designer Steve Madden to "eat a d*ck" after Cardi B feud simmers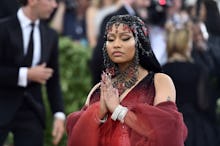 Despite calling a truce with Cardi B, Nicki Minaj is not done beefing.
"Let's focus on positive things only from here on out," is how Nicki Minaj ended Monday night after a feud with Cardi B escalated to a 10-post Instagram response from the Bronx rapper.
By Tuesday morning, Minaj's mellow mantra had wilted. In fact, the 35-year-old rapper continued liking tweets of folks weighing in on the beef. (Minaj even liked a tweet of the Mic story from Tuesday which pointed out discrepancies in Cardi's version of events.)
But that was just her cooling off before setting her sights on designer Steve Madden, who used his brand's verified Twitter account to insert himself in the narrative. After Cardi — who has since deleted all 10 Instagram posts — had claimed that she passed on a number of sponsorship deals, Minaj decided to bring up one particular deal as a way to prove Cardi was lying.
In the tweet, Minaj claimed that record executive Irv Gotti had asked her to ink a deal with Steve Madden several times, which she passed on.
On Tuesday morning, Madden jumped in on Twitter, claiming that Minaj was lying around said offer, writing, "You can't turn down an offer that was never made."
That's when writer Adelle Platon jumped in, tweeting her 2015 Vibe interview with Steve Madden in which Madden did, in fact, mention a deal with Minaj.
On Tuesday evening, Minaj decided to pile onto Platon's corroborating evidence, sending a tweet directly to Madden. "Thought I was lying you dumb fuck," she wrote, also asking Madden to respond to rapper 50 Cent.
In a now-deleted post captured by the Shade Room, 50 Cent posted the Vibe interview with the caption: "I guess [Madden] forgot he spoke on this already," calling the designer "a liar."
Minaj gave this statement her sign-off on Twitter, calling 50 "one of the few left" in response to a fan who posted screenshots of 50's Instagram post.
Then, Iggy Azalea jumped in. In yet another now-deleted tweet, Azalea quote-tweeted Minaj's tweet, writing "This is facts," which was in response to Minaj's claims that Azalea, who went on to work with Madden, "hated the pics."
Minaj gave a hat tip to Azalea late Tuesday night, thanking her for confirming "the truth," calling Madden a "hoe nigga" and using a popular Mo'Nique quote first uttered on VH1's Charm School.
That was not the end, of course. Steve Madden decided to jump back into the conversation, in an attempt to make peace.
"Nicki Minaj is an incredibly talented artist but wouldn't work together cuz the timing wasn't right," he wrote, somewhat contradicting his earlier tweet that no offer had ever been discussed. "Cardi B came on the scene and I had a fantastic collaboration with her, and she is also an amazing talent. I love both Nicki Minaj and Cardi music. I hope they can reach some peace — together they could probably take over the world. There is a lot of negativity out there right now, and I shouldn't have contributed to that."
Eight minutes later, Minaj pounced, telling Madden to "eat a dick." "You lied," she wrote once more. "Ain't nobody buying that clown shit. We couldn't work together cuz I said the shoes were ugly." Minaj then once again quoted Mo'Nique and told the designer to respond to 50 Cent instead of "picking on women."
Stay tuned to see where things go from here.
Mic has reached out to Steve Madden for further comment.