Facebook has removed Gavin McInnes and the Proud Boys from its site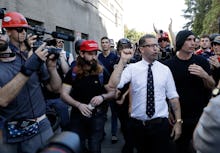 Facebook has banned the Proud Boys from its platform, Business Insider reported. As of late Tuesday, the Proud Boys Facebook group, as well as the Facebook profile belonging to the group's founder, Gavin McInnes, now show a screen claiming the pages aren't available. Instagram, a service that Facebook owns, has banned the group as well. The Proud Boys were banned from Twitter back in August.
"Our team continues to study trends in organized hate and hate speech and works with partners to better understand hate organizations as they evolve," a representative for Facebook told Business Insider. "We will continue to review content, pages and people that violate our policies, take action against hate speech and hate organizations to help keep our community safe."
The group's removal comes at a contentious time. Tech companies like Facebook and Google withstand criticism from conservatives who say their voices are suppressed on those platforms and even within the companies themselves. In the case of the Proud Boys, Facebook isn't just silencing a prominent right-leaning organization, but one that incites violence. In October, several Proud Boy members were allegedly responsible for an attack outside the Metropolitan Republican Club in New York City. During the same weekend, Proud Boy members allegedly assaulted left-leaning activists during a protest in Portland, Oregon.
Facebook has had a turbulent 2018, not just due to hacks and issues with preserving users privacy, but also when it comes to dealing with provocative conservative users on its site. Prior to the Proud Boys' removal, the social network grappled with the handling of InfoWars, a right-leaning web show that often spouted conspiracy theories, and its host, Alex Jones. Jones' conspiracy theories have led to real-world harm. For example, his theory that the Sandy Hook school shooting never happened played a role in the harassment that followed parents of the victims.
Despite Facebook CEO Mark Zuckerberg initially defending the choice to keep wrong information from places like InfoWars on the site, the platform eventually removed Jones' InfoWars content, following the lead of other platforms like those belonging to Apple, Google and Spotify.